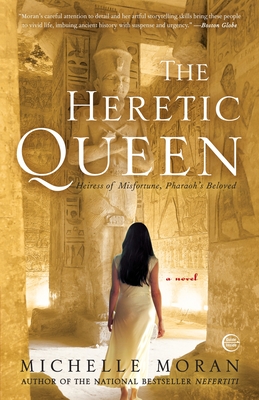 The Heretic Queen
A Novel (Egyptian Royals Collection #2)
Paperback

* Individual store prices may vary.
Other Editions of This Title:
Digital Audiobook (11/3/2008)
Hardcover (9/16/2008)
Description
In ancient Egypt, a forgotten princess must overcome her family's past and remake history.

The winds of change are blowing through Thebes. A devastating palace fire has killed the Eighteenth Dynasty's royal family—all with the exception of Nefertari, the niece of the reviled former queen, Nefertiti. The girl's deceased family has been branded as heretical, and no one in Egypt will speak their names.

A relic of a previous reign, Nefertari is pushed aside, an unimportant princess left to run wild in the palace. But this changes when she is taken under the wing of the Pharaoh' s aunt, then brought to the Temple of Hathor, where she is educated in a manner befitting a future queen.

Soon Nefertari catches the eye of the Crown Prince, and despite her family's history, they fall in love and wish to marry. Yet all of Egypt opposes this union between the rising star of a new dynasty and the fading star of an old, heretical one.

While political adversity sets the country on edge, Nefertari becomes the wife of Ramesses the Great. Destined to be the most powerful Pharaoh in Egypt, he is also the man who must confront the most famous exodus in history.

Sweeping in scope and meticulous in detail, The Heretic Queen is a novel of passion and power, heartbreak and redemption.
Praise For The Heretic Queen: A Novel (Egyptian Royals Collection #2)…
"Nefertari tells her story simply, humbly, and in a clear voice that will attract readers."—Romantic Times

"Moran's careful attention to detail and her artful storytelling skills bring these people to vivid life, imbuing ancient history with suspense and urgency."—Boston Globe

"Performing deft feats of Egyptian magic, Michelle Moran transforms stone-cold history-from-hieroglyphs into gripping narrative, peopled by unforgettable characters seething with conflict and passion. I couldn't stop reading, but I didn't want this book to end."—Robin Maxwell, author of Mademoiselle Boleyn

"Michelle Moran breathes new life into the faded paintings on tomb walls, bringing Ramesses, Nefertari, and the whole panoply of ancient Egyptian splendor to vivid, bustling, page-turning life." —Lauren Willig, author of The Secret History of the Pink Carnation

"Authentic, captivating, and beautifully rendered, Michelle Moran's The Heretic Queen brings to vivid life the ancient courts and distant vistas of New Kingdom Egypt. A fascinating read." —Susan Fraser King, author of Lady Macbeth

"The Heretic Queen is a real page-turner! A heady, ancient Egyptian brew of magic and mystery; history, murder, and palace intrigue as well as romance. I read this enthralling novel in one sitting."—India Edghill, author of Wisdom's Daughter

"A marvelous read. Moran renders the arcane Egypt of hieroglyphs and foundering monuments into a breathing world whose characters we care deeply about. I read it in a trice and wished there was more."—Erika Mailman, author of The Witch's Trinity

"The Heretic Queen is historical fiction at its best. Michelle Moran seamlessly incorporates accurate details into a story full of suspense, intrigue, and tenderness that's impossible to put down until you've reached the last page. An absolute triumph!"—Tasha Alexander, author of A Fatal Waltz

Crown, 9780307381767, 416pp.
Publication Date: September 1, 2009
About the Author
MICHELLE MORAN is the author of the national bestselling novel Nefertiti. She lives in California with her husband and a garden of more than two hundred roses.