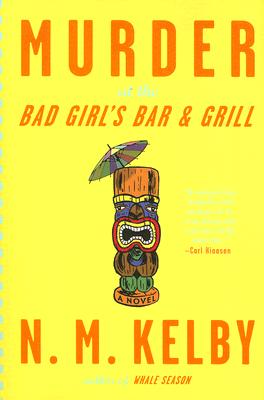 Murder at the Bad Girl's Bar & Grill (Hardcover)
Shaye Areheart Books, 9780307382078, 291pp.
Publication Date: June 3, 2008
* Individual store prices may vary.
or
Not Currently Available for Direct Purchase
Description
Take a slasher-movie actress, a Scottish circus clown, an FBI school dropout, a blind heiress, a junk-food-loving millionaire developer, and a Buddha-quoting bluesman, add a couple of murders in a normally sedate retirement community in south Florida, and you get an irresistible tale that's part Carl Hiaasen and part Gabriel Garcia Marquez. It all goes down as easy as a Key lime pie martini, the signature drink of the Bad Girl's Bar & Grill.
N. M. Kelby's last three novels have received glowing reviews in the "New York Times, Entertainment Weekly, People," and the "Atlantic Monthly." Carl Hiaasen has called her "a natural-born writer," and Kirkus praised her "black humor that sizzles." Sit back, put up your feet, and get ready to lose yourself in a rollicking good story.
About the Author
N. M. KELBY spent twenty years as a television and print journalist before she began writing novels. She is the author of "Whale Season" and lives in Sarasota, Florida, near the beach, with her husband, dogs, cats, and a kettle of vultures circling overhead. Visit her at www.nmkelby.com.
Praise For Murder at the Bad Girl's Bar & Grill…
"A Hiaassen-esque mystery in Florida, where a couple of deaths at a retirement community are anything but natural. Mix in a campy slasher film actress, Barry Manilow impersonator and his pet pooch Mandy and a Baptist-turned-Buddhist blues singer and you get a perfect beach read."
—New York Post

"With Murder at the Bad Girl's Bar & Grill, N. M. Kelby joins that elite group of crime fiction writers such as Carl Hiaasen who toil in absurdist humor and outlandish situations …. Kelby skillfully mixes magic realism into a sharply honed story that also includes a bit of philosophy about greed and Florida."
—South Florida Sun-Sentinel

"N.M. Kelby's Murder at the Bad Girl's Bar & Grill is a worthy addition to the pantheon of over-the-top Florida crime novels …. N.M. Kelby writes beautifully. Her characters are unforgettable, and her use of oddball details adds to the particular flavor of the story, which has moments of melancholy and tenderness among the fireworks."
—The Capital Times

"Wit, charm, a murder or two -- everything you need is here. Dig your toes in the sand and have a good time. It's the Bad Girl way."
—Bookreporter.com

"Laguna Key, the fictional setting of N.M. Kelby's new novel, lies somewhere between Carl Hiaasen's Miami, Jimmy Buffett's Key West and Gabriel Garcia Marquez's Aracataca. Kelby's brand of Sunshine State satire has a gentle, even enchanted touch …. It's the Florida we wish we lived in."
—St. Petersburg Times

"Witty, evocative, and literate . . . Murder at the Bad Girl's Bar & Grill manages to be all three and a mystery to boot. I was hooked from the first paragraph. N. M. Kelby must be a fascinating woman, 'cause she sure is a fascinating writer."
—Adrienne Barbeau, actress (The Fog, Swamp Thing, and Cannibal Women in the Avocado Jungle of Death) and author of There Are Worse Things I Could Do

"Just as she did in the magical Whale Season, Kelby has created a Florida that is dreamy and endearing, a place filled with wondrous characters–women who might be mermaids and men who might be angels. I want to go live there. And I want to be a Bad Girl."
—Bob Morris, author of Bahamarama

"Murder at the Bad Girl's Bar and Grill is a smart, funny page-turner with a compelling mystery at its core. Once again, N. M. Kelby has cooked up a delightful stew of human desire, Floridian strangeness, and outrageous and fully realized characters. This is a great read."
—David Liss, author of The Ethical Assassin and The Coffee Trader

"Good grief! N. M. Kelby is another hilarious Florida writer. Vultures, matching wines with frying candy bars, a Barry Manilow impersonator, and lots of bodies in a gated community. You can't make this stuff up. Oh, wait, Ms. Kelby did. Funny is good, and there is enough poignancy to prevent it from being a comic strip. Get the book and have a swell time."     
—Otto Penzler, editor (with Carl Hiaasen) of The Best American Mystery Stories 2007 and owner of New York City's Mysterious Bookshop
Advertisement