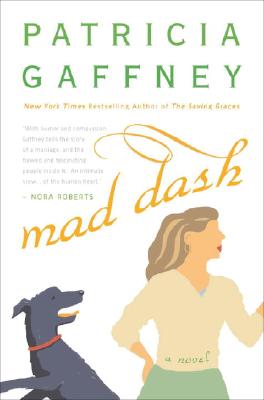 Mad Dash (Hardcover)
Crown, 9780307382115, 368pp.
Publication Date: August 7, 2007
Other Editions of This Title:
Paperback (8/5/2008)
MP3 CD (8/18/2015)
MP3 CD (8/7/2007)
MP3 CD (8/7/2007)
Compact Disc (8/7/2007)
Compact Disc (8/7/2007)
* Individual store prices may vary.
Description
The poor thing was cold and trembling, abandoned on their front doorstep. Dash, impulsive as always, decides on the spot that they should keep it. But her husband, Andrew, thinks it's the craziest thing he's ever heard. A fight over a scruffy little dog doesn't seem like much of a reason to walk out on your husband of twenty years—but the spat over the puppy is just the last of many straws.

Dash is so tired of the faculty parties at Mason-Dixon College that Andrew insists they attend even though he won't mingle with his colleagues, tired of his constant fretting over illnesses he doesn't have, tired of the glass of warm milk he must have every night before bed. Why can't he see that with her mother gone and their daughter off at college, Dash needs something more?

Now, living on her own for the first time in years, Dash can do whatever she wants . . . if only she could figure out what that is. But every time she starts making plans for the future, she finds herself thinking about the past—remembering the mother she's lost, her daughter's childhood, and the husband she isn't entirely sure she wants to leave behind. . . .

By turns poignant and hilarious—often on the same page—Mad Dash is a novel about the funny ways love has of catching up to us despite our most irrational efforts to leave it behind.
Praise For Mad Dash…
"I loved MAD DASH. Patricia Gaffney's books are always heartfelt and wise
–but most of all, laugh-out-loud funny–and this one is my favorite yet!"

—Janet Evanovich

"With humor and compassion, Patricia Gaffney tells the story of a marriage, and the flawed and fascinating people inside it. Both touching and funny, MAD DASH is an intimate view, through the eyes of characters who resonate, of the human heart."

--Nora Roberts

"I fell in love with MAD DASH. Head over heels. It's must reading for any woman who's been married longer than ten years. No one can beat Patricia Gaffney at writing moving and deeply revealing women's fiction that doesn't leave you racing to take an antidepressant when you're done."

--Susan Elizabeth Phillips, author of Natural Born Charmer


"Patricia Gaffney is a powerful, original voice in women's fiction. Funny, poignant, and true-to-life, Mad Dash is an absolute delight from start to finish. From the moment you begin the crazy journey that is Dash's midlife crisis, you'll see yourself, your friends, and your own family. Don't miss this wonderful novel about one woman's chaotic trip into the dark, secret terrain of her own heart."
–Kristin Hannah, author of The Things We Do for Love

"Mad Dash is a lovely, lovely novel. It is funny, true, wise, and inspiring, and I could not have enjoyed it more."

--Elizabeth Buchan, author of Revenge of the Middle-Aged Woman

"Mad Dash is beautiful, witty, and wise; an intensely honest and compelling story of a couple in crisis where no one is to blame and everyone is. Gaffney's portrait of a marriage is both great storytelling and exquisite writing--a wonderful book. Mad Dash is dazzling."

--Jennifer Crusie, author of Manhunting

or
Not Currently Available for Direct Purchase