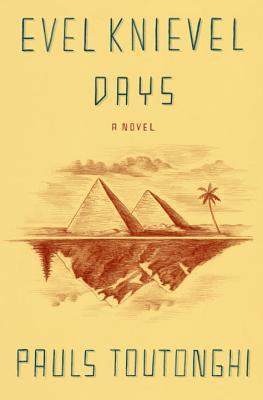 Evel Knievel Days
Hardcover

* Individual store prices may vary.
Description
From the critically-acclaimed author of Red Weather comes a heartwarming, witty story of immigration and belonging, false starts and new beginnings, and finding out what home truly means


   Khosi Saqr has always felt a bit out of place in Butte, Montana, hometown of motorcycle daredevil Evel Knievel.  Half-Egyptian, full of nervous habits, raised by a single mother, owner of a name that no one can pronounce -- Khosi has never quite managed to fit in. But when a mysterious stranger arrives in town (and Khosi's longtime love uses Butte's annual festival, Evel Knievel Days, as a time to announce her impending marriage to someone else), Khosi takes his first daredevil like risk, and travels to Egypt to find his father -- and a connection to his heritage. 
   What he discovers, in Cairo, is much more startling than he'd imagined it could be. The city is a thrilling mix of contradictions -- and locating his father turns out to be the easy part. Through mistaken identity, delicious food, and near tragedy, Khosi and his parents rediscover what it means to be connected to each other, to a family, and to a culture.
   The timely story of a young man searching for his roots, and along the way finding his identity, Evel Knievel Days is Khosi's charming and funny journey to learn where he came from, and who he is.

"A funny, heart-warming, compulsively readable novel about the unbreakable bonds of family — and baklava."    
—Garth Stein, New York Times bestselling author of The Art of Racing in the Rain
Praise For Evel Knievel Days…
"[An] original comedy about the dejected American male…Toutonghi has a light touch that can dart between slapstick and deadpan humor…A story about discovering your roots, forgiving your parents and eating great food…Toutonghi wins us over with lots of madcap family hysteria as the ridiculous lies from Khosi's father are spun and unspun." –Washington Post, Ron Charles

"Butte, Montana and Cairo. That's a lot of territory to embrace in one book, but Pauls Toutonghi has a large wingspan as a writer… From the streets of poor neighborhoods to the racetracks of the rich and the criminal, from restaurants - there's a wonderful Middle Eastern culinary thread you can follow through this novel - to hidden courtyards and apartments to hospitals, we travel with him as he tells - in a breezy, cheerful, but always intelligent voice - the story of his daunting quest to reconnect with his father. And with that voice, Khosi speaks for himself and for millions - for everyone trying to put together the pieces of a broken family. At one point, Khosi quotes the great food writer, M.F.K. Fisher, who said that the smell of good bread baking is indescribable in its evocation of innocence and delight. Can we make an analogy between that sense of delight and reading this novel? I think so." –NPR, All Things Considered, Alan Cheuse

"Told with an addictive voice and bulges with fully realized characters." –The New York Times

"An impossible spectacle, involving ridiculous characters doing outrageous, sometimes unbelievable things, one that succeeds by the skin of its teeth, and is all the more exhilarating for having braved it." –San Francisco Chronicle

"Big-hearted…fun without being lightweight, and the writing is a page-for-page pleasure…At its heart, this is a story about love's messier triumphs, the ones we don't plan for. It's a celebration of the simple fact that love exists and that we have the capacity to experience it, even if only for a time." –Los Angeles Review of Books

"Precious without being maudlin, the novel tackles the themes of romantic love, familial love and love of food with deftness and humor...Filling out his narrative with musings on philosophy and society, Toutonghi has composed an understated fictional autobiography that is both introspective and absorbing. …a quiet evocation of displacement and belonging, America and the Middle East, walking onions and the mythical complexities of making baklava. It's an affectingly simple and simply effective comedic melodrama in nearly every way." –Missoula Independent

"Superb literary effort… With writing both gently ironical and outright funny, the author's extraordinary talent draws readers into the world of Butte and Cairo. More entertainingly, his characters are both believable and appealing, especially Khosi's Egyptian aunts, their drill-sergeant housekeeper and the everyday people he meets.
Brilliantly imagined. Artfully written. Superbly entertaining." –Kirkus, starred review

"A generous and generally comic novel." –Seattle Weekly

"A witty and uplifting story about a young man trying to reconnect with his father. . . The search for the truth is rarely easy, but Toutonghi uses a little magic, humor and homeopathic remedies to find it." –The Montana Standard

"Funny and winsome...quirky and heartfelt novel." –High Country News

"The novel intelligently contextualizes its central theme, finding answers to Khosi's questions of identity in food, history, and family." –The Portland Mercury

"Enthralling right up until the last page of the final chapter." –Silver State Post

"Although it is very funny, Evel Knievel Days is not a comic novel. It is a romance in pretty much the same sense that The Tempest is a romance: strange events crowd out natural events, not because the setting is a magical realm, but because reality becomes magical and strange when it is no longer conventional and familiar." –Commentary Magazine

"Toutonghi manages to hold all this mayhem together with wit and compassion; in the end, Khosi recognizes that "inhabiting a place doesn't require being in that place," and that "an overflowing platter of falafel" can be "a special peace envoy."… A slightly madcap novel of a Montana immigrant's son traveling to the streets of Cairo to find the father who abandoned him." –Shelf Awareness, Bruce Jacobs
 
"Who am I? This is the question bedeviling the half-Egyptian, half-American, wholly screwy twenty-something hero of Pauls Toutonghi's highly entertaining novel, Evel Knievel Days." –Vanity Fair

"Terrific." –Cheryl Strayed, New York Times bestselling author of Wild

"There is plenty of metaphorical magic in the book." –Oregon Public Radio

"Khosi seeks his father and the other half of his own heritage in Cairo, Egypt. Coming from a privileged background — even if that privilege was a generation removed — Khosi confronts chaos, lies, secrets, poverty and a revolution in his own life and in Egypt, too." –Great Falls Tribune
 
"Winning…This novel succeeds largely on the strength of its protagonist who is complex and charming and you cannot help but root for him." –The Rumpus, Roxane Gay

"Charming coming-of-age novel…Humor and heart distinguish Toutonghi's second outing (Red Weather, 2006), and the quirky, appealing Khosi is bound to enchant readers." –Booklist

"The imaginative narrative shaped by the imagery and characters of this novel provides refreshing nuance to the coming-of-age immigration tale." –Library Journal

"Toutonghi's wry wit combined with his lush descriptions of Egyptian cooking make for a book that reflects the complexity of its main character." –Publishers Weekly

"Evel Knievel Days is so good, I want to dress it up in a star-spangled jumpsuit, leap it over the pyramids of Giza on a Laverda American Eagle 750cc motorcycle, and watch it stick its landing before an audience of millions in downtown Butte, Montana.  A funny, heart-warming, compulsively readable novel about the unbreakable bonds of family — and baklava. This is one you shouldn't miss.  Terrific!"    
—Garth Stein, New York Times bestselling author of The Art of Racing in the Rain

"Beautifully written, Evel Knievel Days takes readers on a wry, irresistible journey. Toutonghi has written a spell-binding novel full of heart and startling humor."
—Diana Abu-Jaber, bestselling author of Birds of Paradise

"In a novel of rare warmth and depth, humor and insight, Evel Knievel Days is a tale of daredevil leaps in a young man's search for family and love. Quirky, often hilarious, deeply touching, following our protagonist's journey of discovery from Montana to Egypt was like watching Knievel sail his motorcycle over great expanses — thrilling from ramp to ramp."
—Alan Heathcock, author of Volt
 
"Evel Knievel—the great American daredevil whose spirit presides over Pauls Toutonghi's masterful coming-of-age novel — broke his shoulder, his arm, his collarbone, several ribs, his pelvis, and more: 433 bones in all. Toutonghi takes as many risks, but what he breaks, and puts back together, is the human heart."
—Ben Greenman, author of What He's Poised to Do
 
"It's the originality of Pauls Toutonghi's voice and vision that makes this such a remarkable novel. Toutonghi is a true daredevil of a writer, and this fantastically hilarious and affecting book will have you on the edge of your seat."
—Skip Horack, author of The Eden Hunter and The Southern Cross
 
"This coming-of-age story spans the globe — from an Evel Knievel festival in Butte, Montana to the protests in Tahrir Square. Evel Knievel Days enchants the reader with its ghosts, recipes, and plucky, know-it-all hypochondriac of a narrator — and his travels in search of his father and himself."
—Benjamin Percy, author of The Wilding and Refresh, Refresh

"Evel Knievel Days is a masterful, breathtaking and enchanting novel that will have you rushing to the end. Pauls Toutonghi moves subtly between Montana and Cairo to draw a deep—yet playful—story of identity and family ties."
—Mansoura Ez Eldin, author of Beyond Paradise
Crown, 9780307382153, 304pp.
Publication Date: July 17, 2012
About the Author
Pauls Toutonghi is the Pushcart Prize winning author of the critically-acclaimed novel "Red Weather." He was born in Seattle, Washington to an Egyptian father and a Latvian mother. His work has appeared in "The New York Times," "VQR," "Sports Illustrated," "Zoetrope," "Glimmer Train," "The Harvard Review," and "One Story" -- as well as online for Salon, The Rumpus, Bookslut, The Millions, and elsewhere. He is the father of twins, and teaches at Lewis and Clark College, in Portland, Oregon.
or
Not Currently Available for Direct Purchase