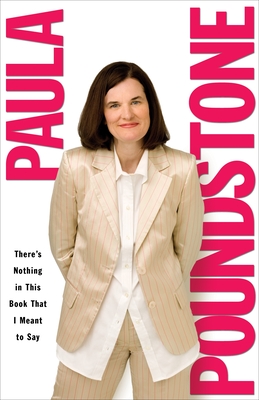 There's Nothing in This Book That I Meant to Say (Paperback)
Three Rivers Press (CA), 9780307382283, 274pp.
Publication Date: November 27, 2007
Description
Part memoir, part monologue, with a dash of startling honesty, There's Nothing in This Book That I Meant to Say features biographies of legendary historical figures from which Paula Poundstone can't help digressing to tell her own story. Mining gold from the lives of Abraham Lincoln, Helen Keller, Joan of Arc, and Beethoven, among others, the eccentric and utterly inimitable mind of Paula Poundstone dissects, observes, and comments on the successes and failures of her own life with surprising candor and spot-on comedic timing in this unique laugh-out-loud book. If you like Paula Poundstone's ironic and blindingly intelligent humor, you'll love this wryly observant, funny, and touching book. Paula Poundstone on . . . The sources of her self-esteem: "A couple of years ago I was reunited with a guy I knew in the fifth grade. He said, "All the other fifth-grade guys liked the pretty girls, but I liked you." It's hard to know if a guy is sincere when he lays it on that thick. The battle between fatigue and informed citizenship: I play a videotape of The NewsHour with Jim Lehrer every night, but sometimes I only get as far as the theme song (da da-da-da da-ah) before I fall asleep. Sometimes as soon as Margaret Warner says whether or not Jim Lehrer is on vacation I drift right off. Somehow just knowing he's well comforts me. The occult: I need to know exactly what day I'm gonna die so that I don't bother putting away leftovers the night before. TV's misplaced priorities: Someday in the midst of the State of the Union address they'll break in with, "We interrupt this program to bring you a little clip from Bewitched." Travel: In London I went to the queen's house. I went as a tourist--she didn't invite me so she could pick my brain: "What do you think of my face on the pound? Too serious?" Air-conditioning in Florida: If it were as cold outside in the winter as they make it inside in the summer, they'd put the heat on. It makes no sense. The scandal: The judge said I was the best probationer he ever had. Talk about proud. With a foreword by Mary Tyler Moore From the Hardcover edition.
About the Author
Paula Poundstone has been a stand-up comic for twenty-seven years. Her long list of successes includes HBO specials, an Emmy Award, two Cable ACE Awards, and an American Comedy Award for Best Female Stand-Up. She now appears regularly on National Public Radio's Wait Wait . . . Don't Tell Me!, and her highly anticipated Bravo special, Look What the Cat Dragged In, will air this fall. Paula lives in Santa Monica, California, with her three children, Toshia, Allison, and Thomas E. Poundstone. From the Hardcover edition.
Advertisement