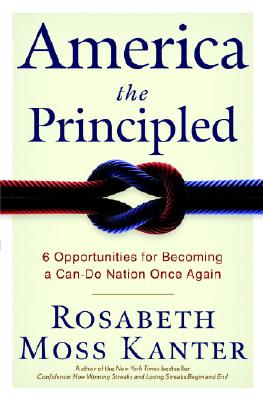 America the Principled
6 Opportunities for Becoming a Can-Do Nation Once Again
Hardcover

* Individual store prices may vary.
Other Editions of This Title:
Paperback (10/14/2008)
Description
Sometimes it seems that Americans are divided in countless ways—red or blue; black, brown, or white; rich or poor; male or female. What happened to America as the land of freedom and openness? In America the Principled, renowned Harvard Business School professor and bestselling author Rosabeth Moss Kanter tackles the hardest questions our nation faces, and challenges us to recommit ourselves to pursuing our nation's noblest goals: equality and opportunity.

As our open minds, open markets, and open borders—our nation's highest ideals—are besieged by ideologues and zealots, Dr. Kanter shows us how to recapture the American Dream. Artfully mixing practical ideas with compassionate guidance, she reminds us that the stakes have never been higher: Our economic vitality and democratic ideals are both at risk. In order to compete in the global market, we must invest in people and ideas, reward hard work, value dialogue and debate, and listen to dissenting voices. We must curtail our desire for worldwide empire, build bridges through citizen diplomacy, and pursue happiness instead of hegemony.

Dr. Kanter proposes six vital items on the agenda for restoring American strengths:
• Widening the net of prosperity by creating opportunities for people of all social and economic classes to participate in the science-based "white coat" economy. We can't afford to have large segments of people—and areas of our country—existing outside the foundations of our future, innovation-seeking society.
• Supporting real family values through fair and flexible workplaces that reduce stress and close gender gaps, enabling people to earn a living, be productive, and have the time and energy for the other side of life
• Ridding the private sector of imperial excess by instilling a values-based capitalism of businesses that are well run, make lots of money, and do lots of good
• Reinventing government and stop denigrating it so that when the next Katrina strikes, we have the right people in place with the motivation, capability, and resources to deal with it
• Doing something about the "Ugly American" by earning back the respect that we have lost in the last six years through individual grass-roots engagement with people in other countries
• Moving from "me" to "we" through national service programs that tap both young people as well as aging baby boomers to create a community ethos that unites people behind common purposes

Empowering and surprisingly optimistic, America the Principled urges us to work together for a bright future we'll be proud to share, having earned the respect of the world once more—and shows us how to do it.
Praise For America the Principled: 6 Opportunities for Becoming a Can-Do Nation Once Again…
"This fine book is both optimistic and realistic. It makes two important points: America is still capable of constant renewal and world leadership. To do that, we need innovative, competent, principled leadership in government, business, and civil society. Then she tells us how to do it!"
—Bill Clinton

Rosabeth Moss Kanter is not only a Harvard professor with a capacious mind, she is also a leader with a noble heart. Here she brings both to bear in thinking through our current troubles as a people and how to fix them. America the Principled is brimming with smart ideas and every presidential candidate should read this book If we did only half of them, the country would get back on a winning streak - and be a lot happier, too!"
—David Gergen, editor-at-large, U.S. News & World Report and White House counselor to four U.S. presidents
.
"MUST READING for any current and future presidential candidates (and their consultants), and for the rest of us concerned about the possibilities and promises of our country's future. Kanter combines tough analytical skills with practical strategic steps to create a better, more decent world."
—Warren Bennis University Professor, University of Southern California, and author of On Becoming a Leader

"A book of heart, soul, and substance, brimming with practical ideas for restoring the idea and practice of community. It's a powerful palliative for America the Disconnected."
—Arianna Huffington, founder and editor, HuffingtonPost.com

"Rosabeth Moss Kanter urges America to restore itself by investing in its own people, retreating from right-wing fundamentalist ideologies, and returning to open-society principles. A must-read for anyone seeking an optimistic response to our troubled times."
—Norman Pearlstine, senior adviser, Carlyle Group; former editor-in-chief, Time Inc.; and former managing editor, The Wall Street Journal

"This is the business version of The Little Engine That Could. Dr. Kanter never gives up—here is her positive, optimistic strategy for America. I loved this book."
—Donna E. Shalala, president, University of Miami, and former U.S. Secretary of Health and Human Services

"A timely and timeless book on innovative leadership in America . . . A powerful and compelling analysis . . . America the Principled is a tour de force and a must-read for corporate America, government officials, and everyday citizens."
—Charles J. Ogletree Jr., Harvard Law School professor, and director of the Charles Hamilton Houston Institute for Race and Justice

"Brilliant and inspiring ideas that will help get America moving in the right direction. This lively, must-read book offers fresh, clear thinking about how we can recapture American traditions of openness and opportunity."
—Cathie Black, president, Hearst Magazines, and author of Basic Black: The Essential Guide for Getting Ahead at Work (and in Life)

"Kanter's pep talk to America is brimming with optimism at a time of so much pessimism. Restoring American confidence will not be easy, but Kanter provides a road map to success."
—Alan Dershowitz, author of Blasphemy: How the Religious Right Is Hijacking the Declaration of Independence
Crown, 9780307382429, 304pp.
Publication Date: October 23, 2007
or
Not Currently Available for Direct Purchase