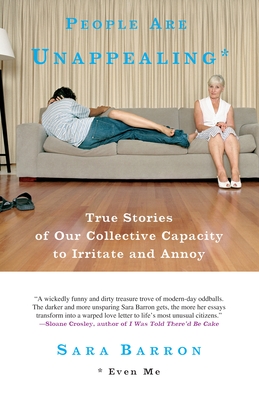 People Are Unappealing
Even Me
Paperback

* Individual store prices may vary.
Description
Born the child of a homo and a hypochondriac (Okay, okay. Her dad's not really a homosexual. He just acts like it. Her mom, however, really is a hypochondriac), Sara Barron never stood a chance of being normal. At age eleven, she starts writing porn ("He humped me wildly with his wiener"). At twelve, she gets mistaken for a trannie. The pre-op sort, no less. By seventeen, she's featured on the Jerry Springer Show. And that's all before she hits New York.

People Are Unappealing tells the strange, funny, and sometimes filthy stories of Sara Barron's twisted suburban upbringing and deranged attempt at taking the Big Apple by storm–first as an actor (then a waiter), then a dancer (then a waiter), then a comic (then a waiter). It's there that she meets the ex-boyfriend turned street clown. The silk pajama-clad poet. The OCD Xanax addict who refuses to have sex wearing any fewer than three condoms.

Barron has a knack for attracting the unattractive. People Are Unappealing is her wickedly funny look at the dark side of humanity.
Praise For People Are Unappealing: Even Me…
"These days, the market is pretty well saturated when it comes to memoir. Which means it has to be good; it has to be different. Sara Barron's essays about her childhood, her parents, her life in acting school in Manhattan and her fellow actors are, dare we say it, as funny as David Sedaris'. . . . Barron swats these quirks around like a cat with a big, juicy catnip toy. When you aren't squirming, you're laughing out loud."
—Los Angeles Times

"[W]hat happens to a bildungsroman in the Craigslist age. It follows the author on a mad-as-hell/not-taking-it-anymore complaining spree through the dregs of thankless, low-wage jobs. Along the way, Barron makes several keen observations about the strange things people do, and also manages to canonize John Stamos as 'the most flawless man who has ever lived,' which had to be done by somebody."
—Gothamist

"Humorist and former Highland Park resident Sara Barron thinks many people, including her, are unappealing. Sexed-up college roommates, freaky online suitors, dads who know way too many show tunes -- they're all rib-ticklingly eviscerated in Barron's relentlessly self-deprecating new book, People Are Unappealing."
—Chicago Sun-Times

"With People are Unappealing, a collection of hilarious personal essays, Sara Barron will attract comparisons to David Sedaris and Sloane Crosley. But anyone tempted to buy into that idea should know that Sedaris and Crosley come off as adorable children in Barron's presence."
—Cleveland Plain Dealer

"Barron [is] a delightful combination of Saturday Night Live's Kristin Wiig and a frizzier-haired Lucille Ball."
—Independent Weekly (Raleigh/Durham, NC)

"Sara Barron has written one of those books that force readers to make a choice: Either you're willing to find the humor in a young Jewish woman talking about getting diarrhea after meeting John Stamos and suffering through Schindler's List or you're not. For those willing to go on this adventure, welcome. Everybody else, please continue on to the 'S' section of the bookstore, where you'll find the milquetoast humor of David Sedaris, to whom Barron will undoubtedly be compared…. [S]he possess a good pen for breezy narrative and a well-tuned awareness of the line separating the everyday absurd from the entirely too-much-personal-information-to-share-in-your-out-loud-voice…, but even better is the shameless glee with which she crosses that line again and again and again and again."
—Baltimore City Paper

"A wickedly funny and dirty treasure trove of modern-day oddballs. The darker and more unsparing Sara Barron gets, the more her essays transform into a warped love letter to life's most unusual citizens."
—Sloane Crosley, author of I Was Told There'd Be Cake

"With this smart and funny debut, Sara Barron establishes herself as the Michael Phelps of complaining."
—Andy Borowitz, New Yorker contributor

"Truly a pee-inducingly hilarious book. . . . Unrelenting, fearlessly funny essays."
—Mike Albo, author of The Underminer

"Fast, reckless, and precarious–an out-of-control tour bus careening though the horrors of Nerve.com dating and waitressing at the Olive Garden and bar-top dancing for NY rednecks: The ride will leave you reeling and breathless."
—George Dawes Green, author of The Caveman's Valentine
Crown, 9780307382450, 224pp.
Publication Date: March 10, 2009
About the Author
SARA BARRON's work has appeared on Showtime's This American Life, National Public Radio's Weekend Edition, and the Today show and at the HBO Comedy Festival in Aspen, Colorado. She lives in Brooklyn, New York. This is her first book.
or
Not Currently Available for Direct Purchase