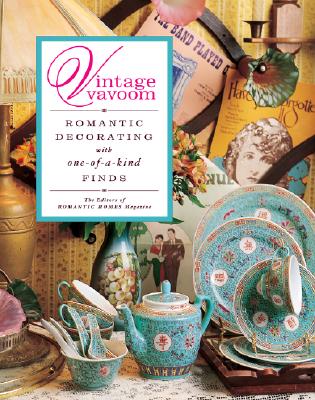 Vintage Vavoom: Romantic Decorating with One-Of-A-Kind Finds (Hardcover)
Romantic Decorating with One-Of-A-Kind Finds
Clarkson Potter Publishers, 9780307382740, 218pp.
Publication Date: December 31, 2007
* Individual store prices may vary.
or
Not Currently Available for Direct Purchase
Description
If you love something, there is a place for it in your home. Follow your passions, whether displaying heirloom pieces connecting you to your childhood or a love for cooking, and translate them into your surroundings.
from the Introduction
We ve all walked into homes that inspire us and tell us something about the owners personality and style. They contain those comfy, romantically stylish rooms where a petal-soft chair and a good book await, or where a cheerful row of aprons seems to dance along a wall. These homes draw us in, urging us to walk around wide-eyed at the eclectic blending of antiques and modern pieces, funky accessories, thoughtful collections, and interesting color combinations. Sometimes, they leave us thinking we could never be so creative or bold.
This book proves otherwise.
What is Vintage Vavoom, exactly? It's a sleek glass table decorated with mismatched china, tarnished silver teapots filled with calla lilies, an antique chandelier hung unpredictably in a bright apple-green powder room. It is the items you love many steeped in nostalgia effortlessly combined with a fresh, modern sensibility.
Think textured fabrics, family heirlooms, clever little accents, and well-crafted furniture, linked together with a sense of playfulness.
Yet while the rules are loose, "Vintage Vavoom" is not about clutter or haphazard mismatching. Instead, seemingly disparate items are pulled together by an underlying motif a punctuating color, a themed collection, or an era that will subtly keep a room in check, even as you add personal flourishes throughout.
Advertisement