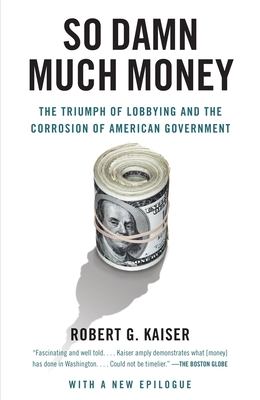 So Damn Much Money (Paperback)
The Triumph of Lobbying and the Corrosion of American Government
Vintage, 9780307385888, 432pp.
Publication Date: February 9, 2010
Other Editions of This Title:
Hardcover (1/20/2009)
* Individual store prices may vary.
Description
With a New Foreword

In So Damn Much Money, veteran Washington Post editor and correspondent Robert Kaiser gives a detailed account of how the boom in political lobbying since the 1970s has shaped American politics by empowering special interests, undermining effective legislation, and discouraging the country's best citizens from serving in office. Kaiser traces this dramatic change in our political system through the colorful story of Gerald S. J. Cassidy, one of Washington's most successful lobbyists. Superbly told, it's an illuminating dissection of a political system badly in need of reform.
About the Author
ROBERT G. KAISER has been with The Washington Post since 1963. He has reported on the House and Senate; was a correspondent in Saigon and Moscow; served as national editor, then managing editor; and is now associate editor and senior correspondent. He has also written for Esquire, Foreign Affairs, and The New York Review of Books. His books include Russia: The People and the Power; So Damn Much Money; and, with Leonard Downie Jr., The News About the News. He has received an Overseas Press Club award and a National Press Club award, and was a Pulitzer Prize finalist. He has also been a commentator on NPR's All Things Considered. He lives in Washington, D.C.
Praise For So Damn Much Money: The Triumph of Lobbying and the Corrosion of American Government…
"Fascinating and well told. . . . Kaiser amply demonstrates what [money] has done in Washington. . . . Could not be timelier."
—The Boston Globe
 
"Excellent. . . . Illuminating. . . . Kaiser's narrative skills are formidable."
—The New York Review of Books
 
"Masterly. . . . A timely and important read. . . . Kaiser brilliantly succeeds in illuminating the little-known ways that American policy is made, and how well-placed and well-connected people are able to profit from the holes in the American system."
—San Francisco Chronicle
 
"The biography of Mr. Cassidy is a delight. . . . The twists and turns in [his] career make for engrossing reading . . . Mr. Kaiser enlightens us when he shares the secrets behind a lobbyist's success."
—The Wall Street Journal
 
"Penetrating. . . . Kaiser is right . . . in his attempt to attenuate the corrosive links between lobbying and government."
—The New Republic
 
"Kaiser's account dwells less on blatant corruption than on what is perfectly, depressingly legal. Lobbyists, for all their policy-shaping aspirations, come across as simple bagmen, conveying cash between buyers in the private sector and all-too-willing sellers in Congress."
—The New Yorker
 
"Fascinating. . . . This book will help us understand national politics by giving us a close-up look at a key lobbying firm that pioneered the expansion of earmarks."
—The Washington Post
 
"Kaiser hooks the reader by focusing on Cassidy, grounding an arcane story in the reality of real people sucked in by avarice via mission-creep."
—Rocky Mountain News
 
"With bold insight and telling detail, Kaiser raises the curtain on Washington to reveal a tragic drama in which money triumphs over principle. Here, in a single book, is the reason why our politics must be transformed."
—Robert B. Reich, Former U.S. Secretary of Labor and author of Supercapitalism
 
"In-depth and critical. . . . Surely, Washington insiders will rush to bookstores to snatch up Kaiser's detailed book. . . . Let's hope that some of those insiders in the [Obama] administration pick up So Damn Much Money and start addressing the problem."
—St. Louis Post-Dispatch
 
"A triumph. . . . We're introduced to all the tricks of the lobbying trade; we watch public servants reap private rewards as lobbyists. Is it true elections are bought and sold? It's all here. . . . Not a pretty tale, but essential reading for today."
—Providence Journal
 
"Kaiser has written the real story of the breakdown of our political system. In the pages of this enormously important book, we can also glimpse a path toward reform—as a new president and Congress take office."
—Carl Bernstein, coauthor of All The President's Men
 
"An accurate and frank description of how lobbyists and money have come to run Washington."
—Leon E. Panetta, Director of the CIA
 
"The best book ever written about how Washington really works. The careful research and laser perfect writing could change American if enough voters read it. An amazing book."
—Raymond D. Strother, author of Falling Up
 
"Kaiser takes the reader past the clichés and caricatures of Washington, and tells a very human story. He leaves the reader with an understanding of how it is possible that American government has reached a point where it now struggles to meet our most basic challenges. . . . This is an important and compelling book."
—Senator Chuck Hagel
 
"Fascinating. . . . [Kaiser] provides a thoroughly researched exposé on the modern lobbying industry in America. . . . This is important reading for understanding the relationship between lobbying, legislation and elections over the last 30 years."
—The Star-Ledger (Newark)
 
"Kaiser knows the terrain. . . . His portrayal of the lobbying boom will confirm what you probably already suspect: The craft's practitioners operate just this side of bribery."
—The New Leader
 
"A book, informed by a lifetime of experience, that tells you how Washington, D.C., really works. . . . That awareness is what makes this book compelling."
—Senator Bill Bradley
 
"With the keen eye of a novelist and precision of a social anthropologist, Bob Kaiser ventures deep into the alluring if soulless world of the archetypal Washington lobbyist and returns with a vivid and unforgettable story. . . . [This is] the book Kaiser has prepared his entire career to write, and we are all the better for it."
—David Maraniss, author of They Marched into Sunlight
 
"As we debate how to curb the growing influence of lobbyists, Kaiser shows us how the system really works through a colorful and well-reported saga of one superlobbyist and the web he was able to weave. A very timely book."
—Walter Isaacson, author of Kissinger: A Biography
 
"So Damn Much Money tells the story of how lobbyists and lobbying have hijacked American government and made Washington into an unexpected venue for getting rich. Well documented and fascinating."
—Kevin Phillips, author of Bad Money
or
Not Currently Available for Direct Purchase