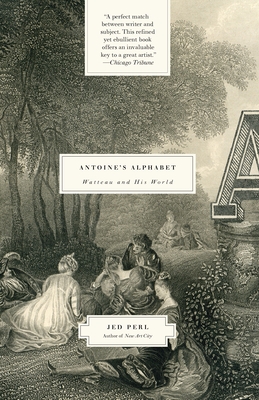 Antoine's Alphabet
Watteau and His World
Paperback

* Individual store prices may vary.
Other Editions of This Title:
Hardcover (9/16/2008)
Description
Antoine Watteau, one of the most mysterious painters who ever lived, is the inspiration for this delightful investigation of the tangled relationship between art and life. Weaving together historical fact and personal reflections, the influential art critic Jed Perl reconstructs the amazing story of this pioneering bohemian artist who, although he died in 1721, when he was only thirty-six, has influenced innumerable painters and writers in the centuries since—and whose work continues to deepen our understanding of the place that love, friendship, and pleasure have in our daily lives.

Perl creates an astonishing experience by gathering his reflections on this "master of silken surfaces and elusive emotions" in the form of an alphabet—a fairy tale for adults—giving us a new way to think about art. This brilliant collage of a book is a hunt for the treasure of Watteau's life and vision that encompasses the glamour and intrigue of eighteenth-century Paris, the riotous history of Harlequin and Pierrot, and the work of such modern giants as Cézanne, Picasso, and Samuel Beckett.

By turns somber and beguiling, analytical and impressionistic, Antoine's Alphabet reaffirms the contemporary relevance of the greatest of all painters of young love and imperishable dreams. It is a book to savor, to share, to return to again and again.
Praise For Antoine's Alphabet: Watteau and His World…
Antoine's Alphabet

". . . Anyone who loves this great painter, or who enjoys seeing a lively mind in action, will find pleasure and instruction in Perl's book . . . In Antoine's Alphabet Perl aptly sums up [the] haunting quality at the heart of Watteau's work . . ."
-Washington Post Book World

"Perl's glittering, shardlike essays encompass everything from penetrating studies of individual pictures to meditations on 'painting's primal power.'"
-The New Yorker

"Jed Perl writes precisely and ecstatically. Antoine's Alphabet is a history and a fairy tale, a work of criticism, and a work of art."
-Jonathan Safran Foer

"Perl's exquisitely composed study . . . [is] a carefully researched book of rare beauty and provocation."
-Publishers Weekly

"Perl's exquisitely written labor of love outdoes even Walter Pater in its ability to capture Watteau's elusive magic. Leaving academics knee-deep in footnotes, Perl soars off into the empyrean, the better to evoke Watteau's gorgeous silken, subliminally melancholic world. Perl's dazzling asides and vignettes amount to a wonderfully deep and rounded portrayal of this great master."
-John Richardson

". . . Perl marshals his considerable interpretative acuity and extraordinary gift for fresh language . . . The ebullience, mischief, and discernment of this artful lexicon perfectly embody the shimmer and steeliness of Watteau's incisive drawings and paintings. Works we'll never view lightly again."
-Booklist

"'. . . Watteau allows this trenchant thinker–arguably our best art critic writing today–to show, for once, his own hand. The book gambles and wins. In this capricious cross-pollination of history and memoir, Jed Perl does not merely show us how to live. Like Watteau, he illuminates the struggle to feel fully alive."
-The New York Sun

". . . Perl, in his element, is incomparable. . . . [His] signature flourish is the description that begins modestly, indisputably, building steadily until the reader finds himself peering exhilarated over a cliff of purest speculation. . . . Perl is straining for Proust-territory here, composing sentences . . . that are rolled up like a sock–we can't tell figure from ground, but somehow, wonderfully, it works. And what's more–he's right."
-The New York Observer

"Why does Watteau touch us with such immediacy? Why is his imaginary world . . . so familiar, why does it speak to us so directly? You will discover the answer to these and many other questions in Jed Perl's delicious Antoine's Alphabet, a book that casts a spell and is a declaration of love for this giant among painters."
-Pierre Rosenberg

"Learned, elegant, and quietly passionate, this small book is a testament to the pleasures, insights, and ongoing ambiguities that come from years of looking at the work of a single painter. But most of all, it is a personal work of deep feeling, and as I read it, it made me happy."
-Siri Hustvedt

"This elegant and exhilarating little book is a rhapsodical roller coaster slung between eighteenth-century Paris and contemporary Manhattan with Antoine Watteau as its focal point. It swoops from Helen of Troy to Katharine Hepburn, Boucher to Beardsley and Beckett. In between these leaps and lunges it contemplates Watteau's paintings with an imaginative steadiness that quickens and clarifies their cloudy power."
-Hilary Spurling
Vintage, 9780307385949, 224pp.
Publication Date: September 15, 2009
About the Author
Jed Perl was born in New York and studied art history and painting at Columbia University. Since 1994 he has been the art critic at The New Republic. His books include Paris Without End, Eyewitness, and New Art City: Manhattan at Mid-Century. He lives in Manhattan.
or
Not Currently Available for Direct Purchase