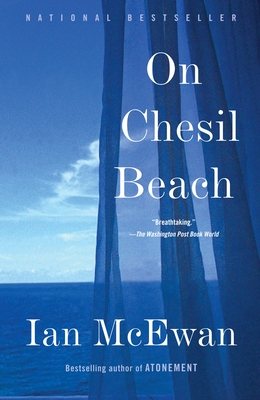 On Chesil Beach (Paperback)
Anchor, 9780307386175, 224pp.
Publication Date: June 10, 2008
Other Editions of This Title:
Digital Audiobook (6/4/2007)
Compact Disc (6/5/2007)
Hardcover, Large Print, Large Print (6/5/2007)
Hardcover (4/1/2007)
Hardcover (6/5/2007)
Paperback (1/1/2008)
Pre-Recorded Audio Player (7/1/2007)
* Individual store prices may vary.
Description
Soon to be a major motion picture starring Saoirse Ronan

The bestselling, Booker Prize-winning author of Atonement brilliantly illuminates the collision of sexual longing, deep-seated fears, and romantic fantasy on a young couple's wedding night.

It is 1962, and Florence and Edward are celebrating their wedding in a hotel on the Dorset coast. Yet as they dine, the expectation of their marital duties become overwhelming. Unbeknownst to them both, the decisions they make this night will resonate throughout their lives. With exquisite prose, Ian McEwan creates in On Chesil Beach a story of lives transformed by a gesture not made or a word not spoken.
About the Author
Ian McEwan is the bestselling author of seventeen books, including the novels Nutshell; The Children Act; Sweet Tooth; Solar, winner of the Bollinger Everyman Wodehouse Prize; On Chesil Beach; Saturday; Atonement, winner of the National Book Critics Circle Award and the W. H. Smith Literary Award; The Comfort of Strangers and Black Dogs, both short-listed for the Booker Prize; Amsterdam, winner of the Booker Prize; and The Child in Time, winner of the Whitbread Award; as well as the story collections First Love, Last Rites, winner of the Somerset Maugham Award, and In Between the Sheets.
Praise For On Chesil Beach…
"Heartbreaking. . . . Breathtaking. . . . Masterly. . . . No one now writing in English surpasses or even matches McEwan's accomplishment." —The Washington Post Book World
"Remarkable, engaging, and gripping. . . . On Chesil Beach is not only a wonderful read but also perhaps that rarest of things: a perfect novel." —San Francisco Chronicle
"Dazzling. . . . McEwan treats [his subject] with a boundless sympathy, one that enlists the reader even as it disguises the fact that this seeming novel of manners is as fundamentally a horror novel as any [he's] written." —Jonathan Lethem, The New York Times Book Review
"A small, perfect, haunting work of art. . . . McEwan draws a humane, touching, sometimes comic portrait of marital misunderstanding in an era when so much less was sayable, or said." —Los Angeles Times Book Review
"Vintage McEwan. . . . His finely honed prose is a deep pleasure to experience." —Chicago Sun-Times
"Marvelously realized. . . .Wrenching, funny, smart, and hugely gratifying in unexpected ways. . . . On Chesil Beach is as merciful to its characters as it is merciless in its heartbreak." —The Boston Globe
"Exquisite. . . . compressed, crisp, [and] warmly specific. . . .[A] small masterpiece." —Entertainment Weekly, "A"
"Quietly riveting. . . . McEwan has never written more beautifully than he does in [this] melancholy and haunting new novel." —O, The Oprah Magazine
"A poignant meditation on love's ebb and flow." —Vogue
"A parable of failed empathy . . . mordant [and] melancholy." —The Village Voice
"Completely absorbing. . . . [I]nfused with a bitter poignancy…intense and powerful . . . a masterpiece." —The Philadelphia Inquirer
What do the novel's opening lines tell us about Edward and Florence? How did your perceptions of them change throughout the subsequent pages? What details did you eventually know about them that they never fully revealed to one another?
Is Edward's libido truly the primary reason he proposes marriage, or were other factors involved (perhaps ones he did not even admit to himself)? Are relationships harmed or helped by cultural restrictions against sex before marriage? Would this marriage have taken place if the couple had met when birth control pills were no longer just a rumor?
Edward replays the words "with my body I thee worship" in his mind. What might have been the intention in including that line when this version of the marriage ceremony was written? How does it make Edward feel?
Ian McEwan describes the novel's time period as an era when youth was not glorified but adulthood was. We are also told that Edward was born in 1940, while his parents contemplated possible outcomes of the war with Germany. At what point did Edward and Florence's solemnity become viewed as old-fashioned? What contributed to that shift? What are your recollections, or those shared by relatives who lived it, of the emerging youth culture of the late 1960s and '70s?
Were Florence and Edward incompatible in ways beyond sexual ones? What do their difficulties in bed say about their relationship altogether? Or is sex an isolated aspect of a marriage?
Chapter two describes how Florence and Edward met; the first paragraph tells us that they were "too sophisticated to believe in destiny." How would you characterize the kind of love they developed? What made them believe they were perfect for one another? Are any two people perfect for one another?
What did Edward's decision to go to London for college indicate about his goals? What was Florence's dream for her future? Was marriage a greater social necessity for her, as a woman? Would her career as a classical musician necessarily have been sacrificed if she had remained with Edward?
Compare Edward's upbringing to Florence's. How did their parents affect their attitudes toward life? How did the limitations of Edward's mother shape his feelings about responsibility and women? Was Florence drawn to her mother's competitiveness?
To what extent was the financial gulf between Edward and Florence a source of trouble? How might the relationship have unfolded, particularly during this time period, if Edward, not Florence, had been the spouse with financial security?
Chapter four recounts the moment when Edward tells Florence he loves her because she's "square," not in spite of it. Are their opposing tastes the product of their temperaments or the episodes in their young lives? What is your understanding of her revulsion to sex?
Discuss the novel's setting, which forms its title. What is the effect of the creaky hotel McEwan creates, and the crashing permanent waves on a beach where the temperatures are still chilly in June? What does it say about the newlyweds that this is the scene of their wedding night?
In the end, Edward explores various "what ifs." Would their marriage have lasted if he had consented to her request for platonic living arrangements? What are the best ways to predict whether a couple can sustain a marriage?
How would Edward and Florence have fared in the twenty-first century? Has the nature of love changed as western society has evolved?
The author tells us that the marriage ended because Edward was callous, and that as Florence ran from him, she was at the same time desperately in love with him. Why did Edward respond the way he did? Why was it so difficult for them to be honest about their feelings? How would you have reacted that night?
Discuss the structure of On Chesil Beach. What is the effect of reading such a compressed storyline, weaving one night with the years before and after it? How did it shape your reading to see only Edward's point of view in the end? What might Florence's perspective have looked like?
In what ways does On Chesil Beach represent a departure for Ian McEwan? In what ways does it enhance the themes in his previous fiction?