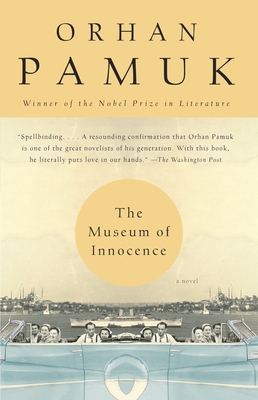 The Museum of Innocence (Paperback)
Vintage, 9780307386243, 560pp.
Publication Date: October 5, 2010
Description
It is 1975, a perfect spring in Istanbul. Kemal and Sibel, children of two prominent families, are about to become engaged. But when Kemal encounters Fusun, a beautiful shopgirl and a distant relation, he becomes enthralled. And once they violate the code of virginity, a rift begins to open between Kemal and the world of the Westernized Istanbul bourgeoisie. In his pursuit of Fusun over the next eight years, Kemal becomes a compulsive collector of objects that chronicle his lovelorn progress amassing a museum that is both a map of a society and of his heart. Orhan Pamuk's first novel since winning the Nobel Prize is a stirring exploration of the nature of romance.
About the Author
Orhan Pamuk won the Nobel Prize for Literature in 2006. His novel My Name Is Red won the 2003 IMPAC Dublin Literary Award. His work has been translated into more than fifty languages. He lives in Istanbul.
Praise For The Museum of Innocence…
A New York Times Notable Book

One of the Best Books of the Year
Los Angeles Times, The Washington Post, Kansas City Star

"Spellbinding. . . . A resounding confirmation that Orhan Pamuk is one of the great novelists of his generation. With this book, he literally puts love in our hands."
—The Washington Post

"Mesmerizing, brilliantly realized. . . . Deeply and compellingly explores the interplay between erotic obsession and sentimentality . . . . There is a master at work in this book. . . . Istanbul—its sounds, its smells, its history—permeates everything."
—Los Angeles Times

"Intimate and nuanced…. A classic, spacious love story."
—Pico Iyer, The New York Review of Books
 
"Stunningly original. . . . Engrossing and sensual. . . . Granular and panoramic, satirical and yet grounded in reality. . . . Great writers have made the failed love stories of desperate, self-involved men pulsate. A master, like Pamuk, makes the story feel vital."
—The Associated Press
 
"Pamuk has created a work concerning romantic love worthy to stand in the company of Lolita, Madame Bovary, and Anna Karenina. . . . [Pamuk] is as accomplished an anatomist of love as Stendhal or Hazlitt in Liber Amoris. . . .  Kemal's narrative crosses decades, assembling a fascinating social world of families, friends and dependents, a rich palimpsest of the lives and mores of Istanbul's haute bourgeoisie."
—Financial Times
 
"Enchanting. . . . Maureen Freely's translation captures the novelist's playful performance as well as his serious collusion with Kemal. Her melding of tones follows Pamuk's agility, to redirect our vision to the gravity of his tale."
—The New York Times Book Review

"This is the greatest novel of the new century. . . . In its sensuousness of the life observed, its Olympian insight into the clashes of classes and professions, and its fearlessness in tackling the great themes of human existence without dilution by showiness, tricks, or superficiality, it evokes the great novels of love and obsession by Balzac, Stendhal, Flaubert, Dostoevsky, Tolstoy, and Mann."
—The New Leader
 
"Enchanting. . . . A tour de force. . . . Museum digs deep into memory, and the inescapability of the past. And just as Dostoyevsky did in critiquing a Russia that looked outward to Europe rather than inward to find its soul, Pamuk portrays an upper class that takes its cues from the West, while threatening to dislodge itself from its native culture. . . . Pamuk's triumph is that you wish Kemal would stay a while longer."
—The Philadelphia Inquirer

"Pamuk's sensual, sinister tale is a brilliant panorama of Turkey's conflicted national identity—and a lacerating critique of a social elite that styles itself after the West but fails to embrace its core freedoms."
—Vogue

"[The Museum of Innocence] grabs and compels us, in prose that is deliberate, thoroughgoing, meticulous. . . . What clarifies breathtakingly by book's end—perhaps its secret heart—is the inverse story that is Füsun's: the quiet indictment of a culture locked into ancient mores that suffocated women to death."
—San Francisco Chronicle
 
"[Pamuk's] most accessible novel and his most profound. . . . Following the spirit of Marcel Proust or another Turkish writer, Ahmet Hamdi Tanpinar, the novelist's art is to accumulate detail in 'a "sentimental museum" in which each object shimmers with meaning.'"
—The Economist
 
"A world-class lesson in heartbreak and happiness. . . . Pamuk's own presence in this wily narrative is as surreptitious as passion itself."
—O, The Oprah Magazine
 
"An alluring story—big in every way in Pamuk's hands."
—Milwaukee Journal Sentinel
 
"A charmingly old-fashioned love story whose principal interest lies in the author's warm-hearted evocation of his milieu: Istanbul is Pamuk's city like Dublin was Joyce's or Chicago Bellow's."
—The Denver Post
 
"Mesmerizing. . . . Awe-inspiring. . . . A haunting and evocative depiction of the passion and frailty of youth and beauty and of the enduring character of memory. . . . Istanbul maps the geography of Pamuk's soul. Reading The Museum of Innocence, most readers will find themselves falling deeply in love with that magical city."
—The Virginian-Pilot (Norfolk)
 
"A virtuoso comment on East and West."
—The Plain Dealer (Cleveland)
 
"A belletristic banquet. . . . Pamuk describes Kemal's decline with operatic drama and painterly flair. . . . His writing [is] lush, grand and masterful."
—The Courier-Journal (Louisville)
 
"[Pamuk] once again distinguishes himself by creating this romance that in its magnitude and ingenuity reaches the level of literature's greatest romances. . . . Beyond the brilliant story line and the exquisite writing and imagery lies the soul of a man laid bare, a man who we should find at best intolerable (and at worst possibly despicable) but who yet finds such joy in this single-minded love that we cannot help but admire him. . . . It is in this duality that we glimpse Pamuk's genius."
—Chattanooga Times Free Press
 
"An enthralling, immensely enjoyable piece of storytelling. . . . The large-scale social portraiture of The Museum of Innocence is beautifully assured; lightly satirical but also affectionate; a very tender evocation of Istanbul's moment of dolce vita."
—The Guardian (London)
 
"Exquisite. . . . An expansive, delicate and deceptively straightforward romance. . . . Against the backdrop of a shifting, evolving city, attracted to, yet sceptical of, the West, Pamuk gracefully, at times teasingly, pursues his themes of memory, custom and sacrifice."
—Daily Mail (London)
Advertisement