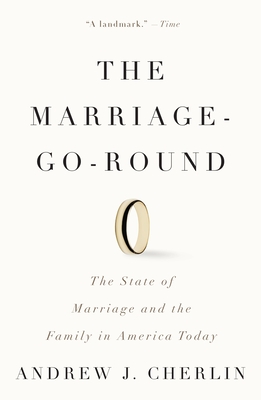 The Marriage-Go-Round: The State of Marriage and the Family in America Today (Paperback)
The State of Marriage and the Family in America Today
Vintage Books USA, 9780307386380, 271pp.
Publication Date: April 6, 2010
Description
Andrew J. Cherlin's three decades of study have shown him that marriage in America is a social and political battlefield in a way that it isn t in other developed countries. Americans marry and divorce more often and have more live-in partners than Europeans, and gay Americans have more interest in legalizing same-sex marriage. The difference comes from Americans embrace of two contradictory cultural ideals: marriage, a formal commitment to share one's life with another; and individualism, which emphasizes personal choice and self-development. Religion and law in America reinforce both of these behavioral poles, fueling turmoil in our family life and heated debate in our public life. Cherlin's incisive diagnosis is an important contribution to the debate and points the way to slowing down the partnership merry-go-round.
About the Author
Andrew J. Cherlin is the Benjamin H. Griswold III Professor of Sociology and Public Policy at Johns Hopkins University and is the author of Public and Private Families. His articles have appeared in The New York Times Magazine, The Nation, and on the op-ed pages of The New York Times, The Washington Post, and other publications. He has been a recipient of a John Simon Guggenheim Memorial Foundation Fellowship and the Distinguished Career Award from the Family Section of the American Sociological Association. He lives in Baltimore.
Praise For The Marriage-Go-Round: The State of Marriage and the Family in America Today…
"A landmark new book." —Time

"Intriguing. . . . Provocative. . . . Cherlin has come up with an original thesis [to explain] this peculiar paradox—we idealize marriage and yet we're so bad at it." —The New York Times
 
"A masterful comparative analysis. . . . Cherlin argues that Americans have a distinctive pattern . . . which stems from our simultaneous commitments to marriage and to self-expression and personal growth." —The American Prospect

"Cherlin is one of America's leading experts on the family. . . . His book delivers a stern warning to this fast-paced conjugal culture: 'Slow down—watch out for the children.'" —Commonweal
Advertisement