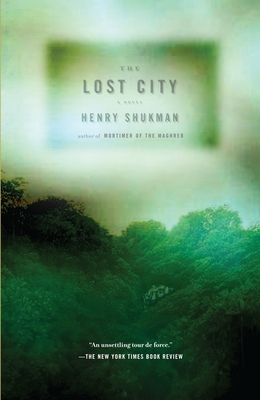 The Lost City (Vintage Contemporaries)
Paperback

* Individual store prices may vary.
Description
Jackson Small—barely twenty and just discharged from the military—sets off in search of something he cannot even be sure is real: La Joya, the lost capital of an ancient, vanished Peruvian empire.

Traveling through South America, Jackson makes his way through desert, arid mountains, inhospitable villages, and impenetrable jungle, meeting several unforgettable characters, including an American woman who both redefines and fulfills all of Jackson's expectations. And though he's warned at almost every turn, he still enters the lethal forest that hides La Joya—where he will discover other searchers, with motives far more sinister than his own. With its lyrical voice, heart-stopping pace, and the audacious romanticism of the quest that fuels it, The Lost City is a novel at once suspenseful, unexpected, and thoroughly mesmerizing.
Praise For The Lost City (Vintage Contemporaries)…
"An unsettling tour de force." —The New York Times Book Review"Intense and admirable. . . . A novel . . . devoutly to be wished for." —San Francisco Chronicle"A potent tale. . . . The ecstasy of Shukman's writing has a special allure [and] the book's supporting characters all add to its vivid color." —The Seattle Times"Seductive and stimulating, full of the wonders and horrors of distant lands."—LA Weekly"A powerful new novel [with] a tantalizing premise . . . Braiding power, commerce, archaeology, and tourism with threads of adventure and romance, Shukman weaves a compelling narrative. But his greatest triumph is rendering an almost impossibly remote region so present and palpable."—National Geographic Traveler (Book of the Month)"The writing is too good to miss . . . Shukman plays the Heart of Darkness—meets—Graham Greene card with brio, offering smart, lyrical prose and a breakneck plot."—Men's Journal"Shukman proves to be a thrilling novelist keenly sensitive to the power of place. Psychological acuity and ravishing descriptions infuse this nearly hallucinogenic and truly affecting tale of the rule of blood, repentance, and love with deep insights into humankind's struggle not only to survive but also to dwell in beauty."—Booklist "Shukman weaves together political intrigue, passionate romance and personal discovery in a visceral and lush debut . . . His forbidding landscapes and fearsome jungle labyrinths are as striking as his characters, cranking up the intensity of a cinematic page-turner that echoes Greene and Conrad."—Publishers Weekly (starred)Praise from the U.K."A gripping story of adventure, casual treachery and intrigue, and the redemption of an emotionally and morally ruined soul . . . The Lost City shares something of the same timelessness [as] Thomas Hardy's The Return of the Native, one of the great creations of terrain as a character in English fiction." —Guardian "An exquisite debut . . . The Lost City is a big, hearty work that is both gripping and intensely moving . . . Shukman's breathtaking, lyrical prose propels a pacy plot which, at its most visceral, becomes cinematic in its scope. On the strength of the writing alone, this is a contender for book of the year." —Scotland on Sunday"Haunting . . . Shukman has a phenomenally well-developed sense of place . . . But what's perhaps most impressive here is the way that he seems able to make everything symbolise something larger than itself." —Independent on Sunday "Shukman proves himself a master of driven narrative and psychological drama . . . At times the prose has the terse muscularity of a Hemingway adventure, at others an almost biblical thunder, underscored by touches of Graham Greene . . . This is Shukman pushing his talent to the edge." —Scotsman"A powerful debut . . . Shukman skillfully blends his genres: political intrigue, drug lords, and South American militia . . . while the poetic prose harks back to Conrad's original jungle quest, Heart of Darkness." —Daily Mail
Vintage, 9780307386427, 336pp.
Publication Date: April 7, 2009
About the Author
Henry Shukman has worked as a trombonist, a trawlerman and a travel writer. His fiction has won an Arts Council Award and has been a finalist for the O. Henry Award. His first poetry collection, In Dr. No's Garden, won the Aldeburgh First Collection Prize and was a Book of the Year in The Times (London) and The Guardian. He lives in New Mexico.
or
Not Currently Available for Direct Purchase