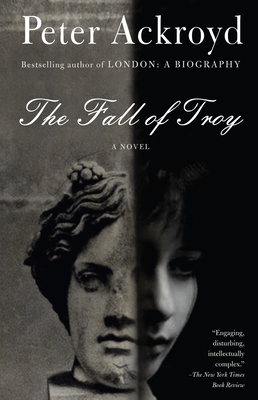 The Fall of Troy (Paperback)
Anchor Books, 9780307386496, 212pp.
Publication Date: November 11, 2008
* Individual store prices may vary.
or
Not Currently Available for Direct Purchase
Description
In "The Fall of Troy," acclaimed novelist and historian Peter Ackroyd creates a fascinating narrative that follows an archaeologist's obsession with finding the ruins of Troy, depicting the blurred line between truth and deception.Obermann, an acclaimed German scholar, fervently believes that his discovery of the ancient ruins of Troy will prove that the heroes of the "Iliad," a work he has cherished all his life, actually existed. But Sophia, Obermann's young Greek wife, has her suspicions about his motivations -- suspicions that only increase when she finds a cache of artifacts that her husband has hidden, and when a more skeptical archaeologist dies from a mysterious fever. With exquisite detail, Ackroyd again demonstrates his ability to evoke time and place, creating a brilliantly told story of heroes and scoundrels, human aspirations and follies, and the temptation to shape the truth to fit a passionately held belief.
About the Author
Peter Ackroyd (CBE) is a master of the historical novel: "The Last Testament of Oscar Wilde "won the Somerset Maugham Award; "Hawksmoor "was awarded both the Whitbread Novel of the Year and the "Guardian "Fiction Prize; and "Chatterton "was shortlisted for the Booker Prize. His most recent historical novel was "The Lambs of London." He is also the author of "Shakespeare: The Biography "and the "Ackroyd's Brief Lives "series.
Praise For The Fall of Troy…
"Engaging, disturbing, intellectually complex." —The New York Times Book Review"Engaging . . . sly, witty. . . . [A] novel that meditates on literature and idealism and the uses and misuses of both." —Los Angeles Times"This is Ackroyd's most exuberant novel for years…"—Daily Mail"Provoking, unsettling, ingenious—and a delight to read."—Barry Unsworth, The Guardian"Written in clipped, precise, instantly recognizable prose, The Fall of Troy is a novel about opposites—of truth and deception, fact and fiction, history and romance, love and loyalty.…But however you read The Fall of Troy—as a love story and mystery told in Homeric style, or as a deeper meditation on the relationship between reality and imagination—Ackroyd the novelist re-emerges triumphantly from the mud of his excavations."—The Times"The Fall of Troy is a clever variation on the story of the excavation of the city in the 1850s.…There is another layer, however, to this tale of fakes, falsehood and deception. For Ackroyd is playing throughout his novel with the status of his own narrative as a work of fiction…there are unsettling surprises as the story dances between pure Ackroyd and the fantasies of Schliemann, and a treacherous middle-ground in between.…Peter Ackroyd's invention trumps even Schliemann's mendacity."—Times Literary Supplement"[Ackroyd's] evocation of the landscape, the weather and the conditions of the Hissarlik dig are brilliant, and his minor characters…are deftly brought to life. Above all, he manages to suggest, in a book which is less slight than it may appear, that men who meddle with the gods do so at their peril."—Sunday Telegraph"Ingenious…briskly told and vividly realized tale…a gripping novel."—Daily Express
Advertisement