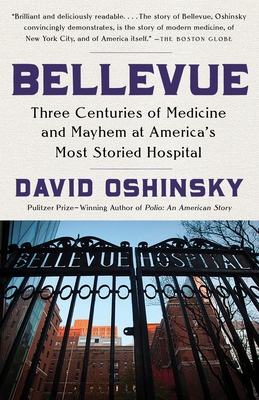 Bellevue
Three Centuries of Medicine and Mayhem at America's Most Storied Hospital
Paperback

* Individual store prices may vary.
Other Editions of This Title:
Digital Audiobook (11/14/2016)
Description
From a Pulitzer Prize-winning historian comes a riveting history of New York's iconic public hospital that charts the turbulent rise of American medicine.

Bellevue Hospital, on New York City's East Side, occupies a colorful and horrifying place in the public imagination: a den of mangled crime victims, vicious psychopaths, assorted derelicts, lunatics, and exotic-disease sufferers. In its two and a half centuries of service, there was hardly an epidemic or social catastrophe—or groundbreaking scientific advance—that did not touch Bellevue.
     David Oshinsky, whose last book, Polio: An American Story, was awarded a Pulitzer Prize, chronicles the history of America's oldest hospital and in so doing also charts the rise of New York to the nation's preeminent city, the path of American medicine from butchery and quackery to a professional and scientific endeavor, and the growth of a civic institution. From its origins in 1738 as an almshouse and pesthouse, Bellevue today is a revered public hospital bringing first-class care to anyone in need. With its diverse, ailing, and unprotesting patient population, the hospital was a natural laboratory for the nation's first clinical research. It treated tens of thousands of Civil War soldiers, launched the first civilian ambulance corps and the first nursing school for women, pioneered medical photography and psychiatric treatment, and spurred New York City to establish the country's first official Board of Health.
     As medical technology advanced, "voluntary" hospitals began to seek out patients willing to pay for their care. For charity cases, it was left to Bellevue to fill the void. The latter decades of the twentieth century brought rampant crime, drug addiction, and homelessness to the nation's struggling cities—problems that called a public hospital's very survival into question. It took the AIDS crisis to cement Bellevue's enduring place as New York's ultimate safety net, the iconic hospital of last resort. Lively, page-turning, fascinating, Bellevue is essential American history.
Praise For Bellevue: Three Centuries of Medicine and Mayhem at America's Most Storied Hospital…
"Any exciting book about the history of Bellevue—which this one surely is—is destined to be as much about the history of disease, medicine and New York City as about the hospital itself. Mr. Oshinsky's chapters about the early days of medicine are especially, distractingly interesting—so much so that they'll inspire you to read them aloud to anyone who'll listen . . . Mr. Oshinsky, who won the 2006 Pulitzer Prize for history for Polio: An American Story, has a lovely flair for detail."
—Jennifer Senior, The New York Times

"Brilliant and deliciously readable . . . The story of Bellevue, Oshinsky convincingly demonstrates, is the story of modern medicine, of New York City, and of America itself."
—Boston Globe

"Deeply engrossing . . . Oshinsky has wrestled an institutional history of significant complexity into a compelling tale . . . [He] is a master of finding and relating memorable anecdotes to embody the history. The result is a serious story studded with juicy and occasionally blood-curdling bits from the past."
—Chicago Tribune

"No other hospital is as embedded in our culture as Bellevue. David Oshinsky's biography of this grand dame of America's public hospitals is a page-turner . . . Oshinsky has captured the spirit, the resilience that is Bellevue, a quality that rubs off on the legions who have trained there. A wonderful read!"
—Abraham Verghese, author of Cutting for Stone

"Compelling . . . In this rich history, we bear witness to a remarkable transformation as Bellevue evolves from bare-bones almshouse appendage in the 1700s to world-class academic medical center today . . . Oshinsky simply has a wealth of great material, and it's a joy to traverse it with him."
—USA Today

"You'll walk away in awe of this tenacious institution—and marvel at the way Oshinsky also fits a comprehensive but succinct history of modern medicine itself into the same book."
—Entertainment Weekly
Anchor, 9780307386717, 416pp.
Publication Date: October 24, 2017
About the Author
DAVID OSHINSKY, Ph.D., is a professor in the NYU Department of History and director of the Division of Medical Humanities at the NYU School of Medicine. In 2005, he won the Pulitzer Prize in History for Polio: An American Story. His other books include the D.B. Hardeman Prize-winning A Conspiracy So Immense: The World of Joe McCarthy, and the Robert Kennedy Prize-winning "Worse Than Slavery": Parchman Farm and the Ordeal of Jim Crow Justice. His articles and reviews appear regularly in The New York Times and The Wall Street Journal.