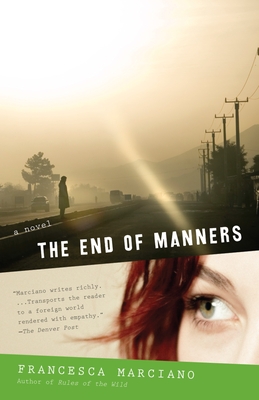 The End of Manners (Paperback)
Vintage, 9780307386748, 272pp.
Publication Date: May 5, 2009
Description
Maria Galante and Imo Glass are on assignment in Afghanistan: outgoing Imo to interview girls who have attempted suicide to avoid forced marriage to older men; and shy, perfectionist Maria to photograph them. But in a culture in which women shroud their faces and suicide is a grave taboo, to photograph these women puts everyone in danger. Before the assignment is over, Maria is forced to decide if it's more important to succeed at her work --and please Imo--or to follow her own moral compass. The End of Manners is a story of friendship and loyalty, of the transformative power of journeying outside oneself into the wider world.
About the Author
Francesca Marciano is the author of two previous novels and several screenplays, including "Don't Tell," which was nominated in 2005 for an Academy Award in the category of Best Foreign-Language Film. She lives in Rome. "From the Hardcover edition."
Praise For The End of Manners…
"Marciano writes richly. . . . Transports the reader to a foreign world rendered with empathy."
—The Denver Post

"Francesca Marciano writes movingly, brilliantly of the moral disturbances between men and women, country and country, wartime and peace, memory and history, and of two particular women who experience the violence at the heart of things and yet refuse to be used or to use others. A remarkable book."
—Susanna Moore, author of In the Cut

"Marciano has an ear for the connections forged between human beings in dire situations."
—The Washington Post

"Marciano gives her readers a few lessons in cultural sensitivity, but the liveliness and wit of her characters ensure that the training is quite palatable."
—The New York Times Book Review

"In Marciano's brisk third novel, an unlikely pair of women are dispatched to war-torn Afghanistan circa 2004 to report a story about young women attempting suicide rather than entering into arranged marriages. . . . With a fluid mix of gritty irony and palpable fear, Marciano's evocation of landscape and environment brilliantly captures a devastated Kabul, a messy war and the soulless arms dealers and cold-blooded mercenaries drawn to the fractured nation by the lure of money. Equally intense is her compassionate depiction of a culture where taking photos of women is forbidden and religious doctrine dictates the way of life in 'a world of a far greater insanity' than Maria [the narrator] had envisioned. This work of fiction, rooted in harsh reality, tackles moral complexities with powerful self-assurance."
—Publishers Weekly

"The narrator of Marciano's contemporary novel is an Italian photojournalist, [Maria Galante, whose] agent persuades her to go to Afghanistan with Imo Glass, a flamboyant London-based journalist, to do a story on Afghan women who attempt suicide in order to avoid arranged marriages. Together dealing with the unending problems of language, cultural differences, unreliable transportation, and security issues, Maria and Imo enter into a friendship that heals [Maria] in many ways, and Maria leaves Afghanistan with an appreciation for the country, a true sympathy for its citizens, and the realization that this experience has made her grow. Writing with grace and heartfelt emotion, Marciano, both a novelist and an Academy Award-nominated screenwriter, is a born storyteller. Her engaging work is strongly recommended for all libraries.
—Lisa Rohrbaugh, Library Journal

"Marciano explores the fractured political landscape of contemporary war-torn Kabul. Two women–Maria, a photographer and also the narrator, and Imo, a freelance writer–go on a mission to Afghanistan to chronicle one of the unforeseen consequences of war: women who are forced into marriages and who have dealt with this social tradition by attempting to kill themselves. . . . Imo is at first the hard-as-nails reporter willing to go to any length to get her story, while Maria is more timid and dewy-eyed. After a disquieting journey to the fierce countryside outside of Kabul, however, both women get into a frightening situation that threatens to spin out of control. This allows Maria to show her strength while Imo's toughness [is] shown to be a mask covering a more vulnerable self. . . . A novel at once both sensuous and terrifying."
—Kirkus Reviews

"Thrilling . . . Stunning . . . A captivating story of a mismatched pair of women journalists covering what they soon realize is an impossible assignment in a place most Westerners visit only through the morning headlines and the evening news. . . . A poignant depiction of Afghanistan . . . The beauty of the novel is in how easily and readily readers are caught up wanting the heroine, [Maria,] to be braver, before realizing that they also would not be braver. . . . By making Maria real in this way, Francesca Marciano also makes Afghanistan real. [An] up close and personal look at Afghanistan."
—Kristin Grabarek, armchairinterviews.com

"Rich and real, The End of Manners transports us into the worlds of Afghanistan and journalism with women who are navigating life's complexities (both geo-political and personal) with courage and humor. A timely novel that offers refreshing–and long overdue–perspectives."
—Holly Morris, director/writer, and host of PBS's "Adventure Divas" and author of Adventure Divas: Searching the Globe for a New Kind of Heroine

"A tender and illuminating story of friendship and encounter, and a reminder of the joys and heartache of discovering the dark beauty that is Afghanistan."
—Jason Elliot, author of An Unexpected Light

"Humane, moving, and rich with insight, The End of Manners shines with the exotic brilliance of a saffron sky. A novel full of wonders."
—Dan Fesperman, author of The Amateur Spy
Advertisement