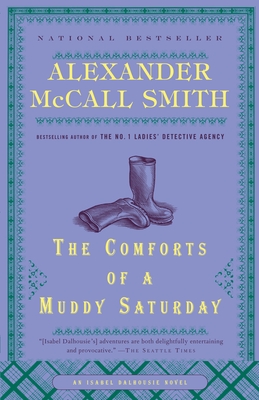 The Comforts of a Muddy Saturday (Isabel Dalhousie Series #5)
Paperback

* Individual store prices may vary.
Other Editions of This Title:
Hardcover (9/23/2008)
Paperback, Large Print (9/23/2008)
Description


ISABEL DALHOUSIE - Book 5

Nothing captures the charm of Edinburgh like the bestselling Isabel Dalhousie series of novels featuring the insatiably curious philosopher and woman detective.  Whether investigating a case or a problem of philosophy, the indefatigable Isabel Dalhousie, one of fiction's most richly developed amateur detectives, is always ready to pursue the answers to all of life's questions, large and small.

In the delectable fifth installment of the bestselling adventures of Isabel Dalhousie, our cherished inquisitive heroine returns to investigate a medical mystery.
A doctor's career has been ruined by allegations of medical fraud and Isabel cannot ignore what may be a miscarriage of justice. Besides, Isabel's insatiable interest is piqued and she finds herself asking questions. Would a respected doctor make such a grave mistake? If not, what explains the death of the patient? Clearly, an investigation is in order.
Meanwhile, there is her baby Charlie, who needs looking after; her niece Cat who needs someone to mind her deli; and a mysterious composer who has latched on to Jamie, making Isabel decidedly uncomfortable. Whatever the problem, whatever the case, we know we can count on Isabel's instincts to help her find the right solution.
Praise For The Comforts of a Muddy Saturday (Isabel Dalhousie Series #5)…
"[Isabel Dalhousie's] adventures are both delightfully entertaining and provocative."—The Seattle Times "Offers tantalizing glimpses of Edinburgh's complex character and a nice, long look into the beautiful mind of a thinking woman."—The New York Times Book Review"Virtue and truth triumph. . . . If you enjoy discussing the big truths and thinking about thinking, you will enjoy The Comforts of a Muddy Saturday."—The Providence Journal "One of the most irresistible sleuths in modern fiction."—Tucson Citizen"Delightful.... McCall Smith's talent for dialog is matched only by his gift for characterization."—Chicago Tribune"Utterly charming.... Alexander McCall Smith often celebrates the best of humanity—its compassion, its intuition, its empathy."—The Capital Times (Madison, Wisconsin)"The exquisite writing and the kind charm of the characters are an oasis from 21st century life."—The Birmingham Post"Enchanting.... Delicious mental comfort food.... The 'intimate' city of Edinburgh is an appealing character in its own right."—Los Angeles Times"A witty, ruminative and wise examination of the things that comfort and sustain us."—The Times-Picayune
Anchor, 9780307387073, 256pp.
Publication Date: July 28, 2009
About the Author
Alexander McCall Smith is the author of the huge international phenomenon The No. 1 Ladies' Detective Agency series, the Isabel Dalhousie series, the Portuguese Irregular Verbs series, and the 44 Scotland Street series. He is professor emeritus of medical law at the University of Edinburgh in Scotland, and has served on many national and international bodies concerned with bioethics. He was born in what is now known as Zimbabwe and taught law at the University of Botswana. He lives in Scotland.
At a somewhat dull dinner party, Isabel is engaged in a conversation about happiness with a doctor seated next to her. She argues, "most people are reasonably happy"; he argues that "most people are unhappy in one way or another" [p. 12]. With what evidence does he support his opinion? With whom do you agree, and why?
While Jamie is quite bored at the novel's opening dinner party [pp. 9–14], after a musical performance he is engaged in a conversation with the composer while Isabel feels ignored [pp. 36–39]. Why does Isabel feel herself to be at a disadvantage when the composer Nick Smart is present? What do these scenes indicate about Jamie and Isabel's status as a couple?
Why does Isabel treat the submission of an article by Christopher Dove so carefully? What feelings does she need to overcome in order to handle the situation? Does she do the right thing, or would it have been more satisfying if she had indulged her less noble instincts [pp. 24–29]?
Most of the novel is narrated from Isabel's point of view, but occasionally we are given access to the thoughts of Jamie [pp. 40, 45]. What would the story be like if Smith were to distribute access to the main characters' thoughts more equally? Would this have a positive or negative effect on your reading experience?
Jamie's relationship with Nick Smart gives rise to jealousy and anxiety in Isabel. She thinks, "if she was to keep Jamie, then she should not suffocate him; he had to have his freedom, had to have his own life…" [p. 45]. The fact of her being older is a source of worry. Does Isabel risk losing him because she doesn't speak often of her love for him? Does it seem likely that their relationship is temporary?
Isabel invites Eddie for dinner at her house, where they have a conversation about the worth of a painting she owns [p. 105]. Eddie is shocked by Isabel's obvious wealth, and asks her to lend him five hundred pounds. Why does Eddie lie to Isabel regarding the money? Do you agree with Isabel that a lie is harmful, and that "truth [is] built into the world" [p. 145]?
Interesting questions about the nature of sexual desire arise when Isabel, under hypnosis, has a vision of her ex-husband John Liamor and cries out to him [p. 112], and also when Jamie admits to himself that to hear Cat's name "hurt him and filled him with a disconcerting feeling of excitement" [p. 45]. Do these events suggest that the bond between Isabel and Jamie is not based primarily on sexual attraction?
Jamie reveals to Isabel that he's been meeting with Nick Smart because he's been working on composing a musical piece for Isabel, and Isabel realizes "she had misread everything-again" [p. 134]. What does Isabel need to learn about Jamie, and about herself?
Where, and in what kinds of situations, are the moments of comedy in the story? Look for example at Isabel's idea about a racehorse named Resentment Lingers, which causes her to smile while talking to Stella Moncrieff [p. 153]. How would you describe Isabel's sense of humor?
One of the things that is perhaps unusual in this series is the presence of "little snatches of poetry" which "provided their modicum of comfort, their islands of meaning that we all needed to keep the nothingness at bay; or at least Isabel felt that she needed them" [p. 157]. The poet most often quoted is W. H. Auden, whose biographer enters this story, giving a lecture that Isabel attends [pp. 169–70]. Does the presence of poetry enhance these novels, and if so, how?
How are the Isabel Dalhousie novels not typical of the mystery genre? How central to the reading experience is the mystery of how and why Marcus Moncrieff came to lose his reputation? Are other aspects of the plot equally interesting?
What does the revelation that Jamie is alienated from his family suggest (if anything) for his future with Charlie and Isabel [p. 217]?
Marcus Moncrieff's guilt or innocence is unclear until he himself tells Isabel the truth about his involvement in falsifying data [pp. 221–26]. What was his motivation? What can Isabel do to help him, given the circumstances? Why does she give him advice about his wife [p. 224]? Why is it interesting that she admits to Jamie, "I am a hopeless sleuth" [p. 226]?
Discuss the domestic "muddy Saturday" scene with which the story ends [pp. 237–40]. What does this scene suggest about the bonds between Isabel, Jamie and Charlie?
If you have read the No. 1 Ladies' Detective Agency series, how does Isabel compare as a heroine to Precious Ramotswe? Which of the two characters do you prefer, and for what qualities? How are the two women alike?