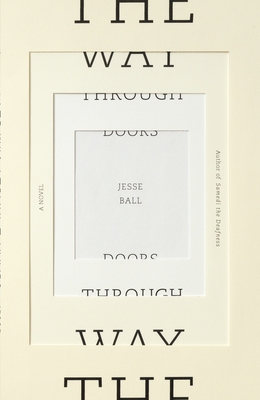 The Way Through Doors (Vintage Contemporaries)
Paperback

* Individual store prices may vary.
Description
With his debut novel, Samedi the Deafness, Jesse Ball emerged as one of our most extraordinary new writers. Now, Ball returns with this haunting tale of love and storytelling, hope and identity.

When Selah Morse sees a young woman get hit by a speeding taxicab, he rushes her to the hospital. The girl has lost her memory; she is delirious and has no identification, so Selah poses as her boyfriend. She is released into his care, but the doctor charges him to keep her awake, and to help her remember her past. Through the long night, he tells her stories, inventing and inventing, trying to get closer to what might be true, and hoping she will recognize herself in one of his tales. Offering up moments of pure insight and unexpected, exuberant humor, The Way Through Doors demonstrates Jesse Ball's great artistry and gift for and narrative.
Praise For The Way Through Doors (Vintage Contemporaries)…
"[The Way Through Doors] is disturbingly original. It is a story about the telling of stories, a narrative about narratives. Like The Unconsoled by Kazuo Ishiguro, it keeps the reader enthralled by constantly taking the wrong fork in the road. . . . As long as you don't insist on a strictly literal, cause-and-effect universe, the world of this novel–which feels more like a long poem–will mesmerize you. Here, ends are beginnings. Beginnings don't end. And stories are mirrors, eternally facing each other, bouncing off each other, splitting into dozens of oddly shaped pieces, into harmless shards of magic and longing."
—Chicago Tribune

"Readers unfamiliar with [Ball] are in for a treat, for there seems to be no other novelist writing today who is capable of so thoroughly disarming one's narrative expectations. . . . [The Way Through Doors] leaves one awestruck and the unique artistry of its author seems to stand as a paean to the generative, storytelling imagination."
—Minneapolis Star Tribune

"Recalls Borges and Calvino. . . . The constant playful shift in tones and odd characters (including, in one instance, a fiddle-playing dog) blurs the line between dreamlike abstraction and old-fashioned genre writing. . . . Reading [The Way Through Doors] feels a little like stumbling into an M.C. Escher print."
—Chicago Sun-Times

"A delightful prose experiment . . . The Way Through Doors plays with plot and language with an ease and skillfulness we don't often find. . . . [Ball] conjures up a tradition of surreal playfulness on the serious theme of the search for identity and the quest for romance. . . . Ball is a talented new writer whom we ought to watch."
—San Francisco Chronicle

"Lovely. . . . As promising and sweet as a second novel can be. . . . [The Way Through Doors] is written with a flawless, compassionate ear. . . . It's a book for former Narnia dreamers who have read (and liked) a bit of Ben Marcus and grown up without outgrowing the idea that a book should do a person good."
—Los Angeles Times

"Perplexing, insightful, and uplifting, and sometimes all of the above at once. Throughout, [The Way Through Doors] remains consistently engaging."
—Sacramento Book Review

"An ingenious manifesto of the free imagination, a reminder not only of enchantment's uses, but of how it actually feels. . . . A funhouse of fictions, [The Way Through Doors] is full of sudden doorways, with each room cluttered with the caprices of Selah's imagination; but it is also a fable, with morals for both Mora and the reader. . . . [Ball's] virtuosic display of the art of fiction might also serve as a guide to the art of life."
—Boldtype

"A literary Russian nesting doll. . . . Ball is arguably one of the more dynamic young American writers to emerge in the last few years."
—Pittsburgh Tribune-Review

"Clever, digressive fiction in which the plot forks and mutates to yield multiple new and sometimes interconnected story lines. . . . It's easy to be impressed by the tortuous routes Ball's novel follows as it steps away from and back through the original Selah-Mora narrative."
—Time Out New York

"Unique. . . . Reminiscent of Italo Calvino's novel If on a Winter's Night a Traveler in the way it calls upon stories outside the main plot to dig at the truth."
—Time Out Chicago

"In the hands of a talented writer, doors can be a felicitous metaphor, but it is singularly when Jesse Ball takes the door by the knob that ingress becomes pure, prurient flirtation. . . . With a Surrealistic touch and Murakami-esque whimsy, Ball distinguishes himself in his storytelling as a master of doors. The reader is never sure whether a story is on its way in, or out…and all the time, the prose is with such light-handed beauty and wit that it could be a novel by Frank O'Hara. . . . A must-read."
—The Weekly Dig

"[The Way Through Doors] tells its tale through stories within stories, with a precision only a poet could pull off."
—Largehearted Boy

"Labyrinthine and seamless. . . . Ball's talent as a contemporary fabulist is clearly on display. . . . [His] poetic background is obvious not only in his linguistic precision but in what is left unwritten or speculative. The Way Through Doors is not genre busting, yet it seems to exist on the borderlands of fiction, poetry and the oral tradition. It is a brilliant work that respects and understands the inherent power of story and Ball masterfully creates a world that is familiar, mysterious and utterly captivating."
—Bookslut

"[An] endlessly permutable plot boiler. . . . [A] marvelous, Escher-inflected labyrinth."
—Bookforum

Praise for Samedi the Deafness:

"Everything in the pages of this novel may be in doubt, but Jesse Ball's gifts as a writer are real."
—The New York Times

"Exquisite. . . . A puzzle whose solution is ultimately immaterial to its beauty."
—The New Yorker

Vintage, 9780307387462, 240pp.
Publication Date: February 10, 2009
About the Author
Jesse Ball (1978-) is an American poet and novelist. He is the author of Samedi the Deafness, released last year by Random House and shortlisted for the 2007 Believer Book Award. His first volume, March Book, appeared in 2004, followed by Vera & Linus (2006), and Parables and Lies (2008). His drawings were published in 2006 in Iceland in the volume Og svo kom nottin. He won the Plimpton Prize in 2008 for his novella, The Early Deaths of Lubeck, Brennan, Harp & Carr. His verse appeared in The Best American Poetry 2006. He is an assistant professor at the School of the Art Institute of Chicago.