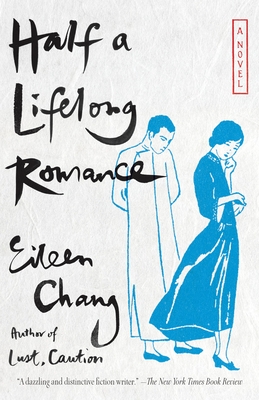 Half a Lifelong Romance
Paperback

* Individual store prices may vary.
Other Editions of This Title:
MP3 CD (3/1/2016)
Compact Disc (3/1/2016)
Compact Disc (3/1/2016)
Description
Shanghai, 1930s. Shen Shijun, a young engineer, has fallen in love with his colleague, the beautiful Gu Manzhen. He is determined to resist his family's efforts to match him with his wealthy cousin so that he can marry her. But dark circumstances—a lustful brother-in-law, a treacherous sister, a family secret—force the two young lovers apart.

As Manzhen and Shijun go on their separate paths, they lose track of one another, and their lives become filled with feints and schemes, missed connections and tragic misunderstandings. At every turn, societal expectations seem to thwart their prospects for happiness. Still, Manzhen and Shijun dare to hold out hope—however slim—that they might one day meet again. A glamorous, wrenching tale set against the glittering backdrop of an extraordinary city, Half a Lifelong Romance is a beloved classic from one of the essential writers of twentieth-century China.
Praise For Half a Lifelong Romance…
"The most mature and fully achieved novel by midcentury writer Eileen Chang, whose work was beloved by readers in Hong Kong and Taiwan, yet banned in mainland China until the 1990s. . . . A small masterpiece of understatement and indirection. It has a grave tenderness, alert to the manners and gestures of bourgeois family life, almost reminiscent of Henry James or Edith Wharton. It's an excellent introduction to the complex work of an underappreciated writer." —The New York Times Book Review

"An enveloping, haunting and insightful read, rich in Chang's trademark passionate prose." —The Wall Street Journal

"Half a Lifelong Romance is broad in its scope and exceptionally moving in its characterizations, painting a picture of life in China in the 1930s. . . . Chang's legacy as one of the most important Chinese writers of the 20th century is fully realized in this work. . . . Chang's characters' tragic yet sometimes comical attempts to navigate unfair expectations and maintain illusions of proper manners resonate with all readers regardless of background. These experiences are even reminiscent of the struggles of Jane Austen's protagonists." —The Kansas City Star
 
"The silences in this novel, set in 1930s Shanghai, emerge from an extraordinary sensitivity to language and its limitations. So many crucial words unheard or unsaid—a host of flames kindling and dying in silence." —Helen Oyeyemi in The Week 
 
"This novel, originally serialized in China in 1950, is translated into English for the first time: the story of star-crossed lovers in 1930s and '40s Shanghai, kept apart by societal taboos and the scheming of their families." —Newsday
 
"A heartbreaking tale of a Chinese couple torn apart, this poignant read centers on feelings of passion, hope and true love. It's full of emotion, and rave early reviews suggest it's about to become a beloved classic." —Brit + Co
 
"Translator Kingsbury's introduction discusses the book's evolution and the circumstances of its publication, which makes for a compelling story on its own. . . . Though this is, according to Kingsbury's telling, Chang's 'most popular novel,' this edition marks its first English translation. And there's plenty to savor. Chang's attention to detail is meticulous, and the way the plot navigates societal mores and taboos calls to mind the work of Edith Wharton. . . . Over the course of the novel, romance and regret are interlaced, each one given the appropriate weight. With compelling protagonists and a host of memorable supporting characters, this novel tells an emotionally complex story with a number of powerful moments." —Kirkus Reviews

Anchor, 9780307387547, 400pp.
Publication Date: March 8, 2016
About the Author
Eileen Chang (1920-1995), a novelist, essayist, and screenwriter, was born into an elite family in Shanghai. In 1941, while the city was under Japanese occupation, she began to publish the stories and essays that established her reputation in the literary world. She left China in 1952 to escape the influence of the Communist party, settling in the United States in 1955. She continued to write novels, stories, essays, and screenplays for Hong Kong films. In the 1970s, her works became immensely popular throughout the Chinese-speaking world. Despite her growing fame, Chang grew more and more reclusive, and was found dead in her Los Angeles apartment in 1995. Her works continue to be translated into English. A film adaptation of her novella Lust, Caution, directed by Ang Lee, was released in 2007.

Karen S. Kingsbury taught and studied in Sichuan and Taiwan for nearly two decades, and is currently Professor of International Studies at Chatham University, where she teaches East Asian studies and world literature. She lives near Pittsburgh, Pennsylvania.
or
Not Currently Available for Direct Purchase