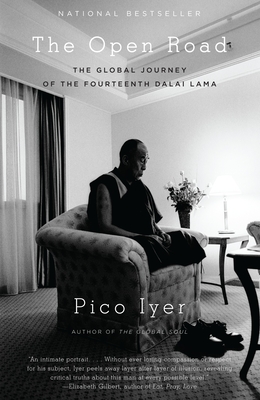 The Open Road: The Global Journey of the Fourteenth Dalai Lama (Paperback)
The Global Journey of the Fourteenth Dalai Lama
Vintage Books USA, 9780307387554, 275pp.
Publication Date: March 10, 2009
Description
For over three decades, Pico Iyer, one of our most cherished travel writers, has been a friend to the Dalai Lama. Over these years through intimate conversations, he has come to know him in a way that few can claim. Here he paints an unprecedented portrait of one of the most singular figures of our time, explaining the Dalai Lama's work and ideas about politics, science, technology, and religion. For Buddhist and non-Buddhist alike, The Open Road illuminates the hidden life and the daily challenges of this global icon.
About the Author
Pico Iyer is the author of six works of nonfiction and two novels. He has covered the Tibetan question for Time, The New Yorker, The New York Times, The New York Review of Books, and many other publications for more than twenty years.
Praise For The Open Road: The Global Journey of the Fourteenth Dalai Lama…
"An exceptionally intimate portrait. . . . Without ever losing compassion or respect for his subject, Iyer peels away layer after layer of illusion, revealing critical truths about this man at every possible level."
—Elizabeth Gilbert, author of Eat, Pray, Love

"A trenchant, impassioned look at a singular life"
—The New York Times Book Review

"Superb. . . . Iyer concretely conveys his truths, making it seem as if he, the reader, and the Dalai Lama are all sitting in the same room."
—The Philadelphia Inquirer

"Marvelous. . . . An elegant and intensely personal book."
—The Washington Post

"The bracing virtue of Iyer's thoughtful essay is that it allows us to imagine the Dalai Lama as something of an intellectual and spiritual adventurer, exploring fresh sources of individual identity and belonging in the newly united world."
—Pankaj Mishra, The New Yorker

"[Iyer has] an access and insight into the Dalai Lama that lifts his writing above the clichés that normally surround him…The Open Road is not a biography but it probably reveals more about its subject than any formal study."
—The Economist

"An incisive analysis of the modern relevance of Tibetan Buddhism and its leader…Nonfiction of the highest caliber: fascinating and thorough."
—Kirkus (starred review)

"A brilliant pairing of writer and subject."
—Publishers Weekly (starred review)

"A wonderful book. I don't know when I have seen such a perfect match of a glorious subject and an author who can do justice to that subject."
—Huston Smith, author of The World's Religions

"Pico Iyer delights, weaving with scintillating intelligence and evident fondness a spell-binding tale of the 14th Dalai Lama's uncanny power on the world stage. The Open Road intertwines an insider's access to telling detail with a well-seasoned journalist's skeptical sensibility. This thoughtful, thought-provoking book will open readers' eyes. I couldn't put it down."
—Daniel Goleman, author of Emotional Intelligence

"In The Open Road, Pico Iyer transcends his celebrated excellence as a travel writer. In an uncommonly thoughtful and eloquent report on the spiritual reflections and also the complex and demanding political and practical encounters negotiated every day by the Dalai Lama–an old friend of his father whom he has known well since early boyhood, not only on regular sojourns at Dharamsala but as a companionable observer on His Holiness's tireless world travels on behalf of simple sanity and peace–Iyer has brought us an invaluable account and precious gift."
—Peter Matthiessen, author of The Snow Leopard

"Pico Iyer has taken on perhaps the hardest subject in the whole world to capture on paper: the story of a spiritual/political leader whose greatness is routinely condensed by media accounts into platitudes, and of a movement for both globalized understanding and the salvation of one very particular sliver of land. His account of the 14th Dalai Lama is an undiluted triumph, a book as subtle and moving as any nonfiction produced in recent decades. The planet and its possibilities will look different to you by its close."
—Bill McKibben, author of Deep Economy
Advertisement