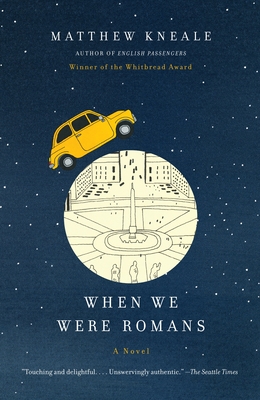 When We Were Romans (Paperback)
Anchor Books, 9780307387868, 240pp.
Publication Date: August 11, 2009
Description
When We Were Romans is a haunting psychological novel and another masterful work from the author of the prize-winning English Passengers.Nine-year-old Lawrence is the man of his family. He watches over his mother and his willful little sister Jemima. He is the one who keeps order, especially when his mother decides they must leave their life in England behind because of threats from Lawrence's father. But their new life in Rome does not go as planned. Short of money and living off of his mother's old friends--all who seem to doubt her story--Lawrence soon realizes that things are not what they seem.
About the Author
Matthew Kneale was born in London, the son of two writers. He is author of numerous prize-winning novels, including the bestselling English Passengers, which won the Whitbread Book of the Year Award and was short-listed for the Booker Prize. He lives in Rome.
Praise For When We Were Romans…
"Extraordinary.... Enemies might be real or they might be imagined, but what's absolutely true for Lawrence is his unshakable belief in the conspiracy of his and his mother's love." —The Washington Post Book World"If you enjoyed The Curious Incident of the Dog in the Night Time, definitely pick up When We Were Romans." —The St. Petersburg Times"How much Lawrence understands of his family's tribulations is the book's central, poignant mystery; the consummate artistry with which Kneale captures this child's voice, its chief pleasure." —Entertainment Weekly"Full of restraint and artistic integrity, this is a poignant, haunting and lovely novel." —The Guardian"[Lawrence] is the literary first cousin of Roddy Doyle's Paddy Clarke . . . The heartbreak and triumph of When We Were Romans is that little Lawrence is the real thing." —Literary Review"Matthew Kneale's lovely novel . . . is narrated by Lawrence with insight, humor and sweetly erratic spelling: it halts and splutters in rhythm with the children's whims and tantrums . . . the author has got inside a young, overburdened mind with convincing accuracy." —Financial Times"The strength of Kneale's novel is not suspense but Lawrence's delicate sensibility . . . Lawrence's touchingly ingenuous language, his tetchy irritation with his baby sister, and his beleaguered optimism make him a genuinely affecting protagonist." —Independent"Substantial and engaging . . .With consummate subtlety and sympathy, Kneale finds metaphorical hinges between the family's unfolding story and Lawrence's two intellectual interests-Roman emperors and astronomy." —The Times"Lawrence's skillful maneuvering in a tricksy adult world is artfully depicted. His guileless voice only exacerbates the sense of dread, while its deceptive simplicity hides a chilling exploration of mental illness and maternal neglect." —New Statesman
Advertisement