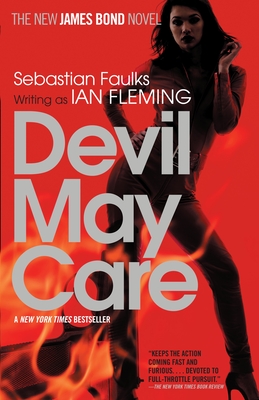 Devil May Care (James Bond, Jr. #36) (Paperback)
Vintage, 9780307387875, 304pp.
Publication Date: May 19, 2009
Other Editions of This Title:
Digital Audiobook (5/27/2008)
Digital Audiobook (5/27/2008)
Hardcover (5/28/2008)
Mass Market Paperback (5/19/2009)
Hardcover (5/28/2008)
Paperback, Large Print, Large Print (5/28/2008)
* Individual store prices may vary.
Description
Bond is back in this electrifying new novel of intrigue and suspense. A masterful continuation of the James Bond legacy, Devil May Care picks up right where Ian Fleming left off—at the height of the Cold War, with a story of almost unbearable tension. An Algerian drug runner is brutally executed on the desolate outskirts of Paris and Bond is assigned a new task; to shadow the mysterious Dr. Julius Gorner, a power-crazed pharmaceutical magnate. Gorner has lately taken a disquieting interest in opiate derivatives, both legal and illegal. After finding a willing accomplice in the shape of a glamorous Parisian named Scarlett Papava, Bond must stop a chain of events that could lead to global catastrophe. Charged with adrenaline, deception, and Bond's signature wit, Faulks brings us this exhilarating new chapter in the life of the world's most iconic spy.
About the Author
   Sebastian Faulks began his working life, like Ian Fleming, as a journalist, working for national newspapers in London from 1978 to 1991.  Since then, however, he has been a full-time author, and his novels have been among the most widely admired of their time.  They include the epic Human Traces (2005) and the much-loved Birdsong (1993), which has sold more than three million copies.  HE is also the author of a triple biography, The Fatal Englishman, and a book of literary parodies of other authors (including Fleming) called Pistache.  His most recent novel in Engleby(2006).  He first encountered the Bond novels as a twelve-year-old; the books were banned at his school, but he read them by torchlight under the sheets.


Praise For Devil May Care (James Bond, Jr. #36)…
"Keep[s] the action coming fast and furious.... Devoted to full-throttle pursuit." —The New York Times"A satisfying thriller. . . . A fond and at times funny homage to all the other books in the series." —The New York Times "Superb. . . . Clever, quickly paced and pedal-to-the-metal entertainment." —Minneapolis Star-Tribune "Superior.... The book races along. Unlike many modern novels, it gets better and better."—The Economist"Well-written [and] entertaining.... The tension ratchets up." —The Wall Street Journal"Goes down as easily as one of 007's bon mots."—The Christian Science Monitor"So satisfying was Sebastian Faulks's new James Bond novel that I felt obliged to celebrate by making myself a vodka martini, very dry, shaken, not stirred." —Fritz Lanham, Houston Chronicle"Faulks is a graceful writer with a bracing cold streak and a sharp eye for period detail." —Time"Has admirable style and verve, in large part because Faulks approaches the material with respect, never winking at the reader."—The South Florida Sun-Sentinel