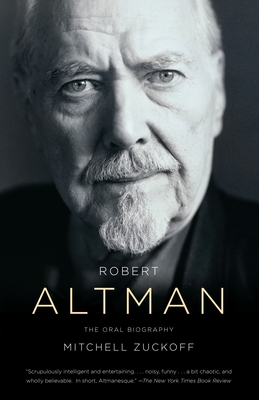 Robert Altman (Paperback)
The Oral Biography
Vintage, 9780307387912, 576pp.
Publication Date: December 7, 2010
* Individual store prices may vary.
Description
Robert Altman—visionary director, hard-partying hedonist, eccentric family man, Hollywood legend—comes roaring to life in this rollicking oral biography.  After an all-American boyhood in Kansas City, a stint flying bombers in World War II, and jobs ranging from dog tattoo entrepreneur to television director, Robert Altman burst onto the scene in 1970 with M*A*S*H. He reinvented American filmmaking, and went on to produce such masterpieces as McCabe & Mrs. Miller, Nashville, The Player, Short Cuts, and Gosford Park. In Robert Altman, Mitchell Zuckoff has woven together Altman's final interviews; an incredible cast of voices including Meryl Streep, Warren Beatty, Paul Newman, among scores of others; and contemporary reviews and news accounts into a riveting tale of an extraordinary life.
About the Author
Mitchell Zuckoff is a professor of journalism at Boston University. He is the author of three previous books, most recently Ponzi's Scheme: The True Story of A Financial Legend. As a reporter with The Boston Globe, he was a finalist for a Pulitzer Prize and the recipient of numerous national writing awards.
Praise For Robert Altman: The Oral Biography…
"Scrupulously intelligent and entertaining. . . . Noisy, funny, slightly ill considered, a bit chaotic, and wholly believeable.  In short, Altmanesque." —The New York Times Book Review

"[Zuckoff] uses a light editorial hand, allowing a wide range of contributors to have their say. . . . A comprehensive, 360-degree look at a complicated subject." —Wall Street Journal

"[There are] many surprising and revealing comments that Zuckoff has assembled in his fittingly rambling book. . . . Life is complicated, often messy—as Altman showed us—and his life, as seen in Zuckoff's book, was no exception." —San Francisco Chronicle
 
"A brilliantly researched, near-cinematic evocation. . . . Altman never gave up creating his cinematic portraits of people on the margins—con artists, prostitutes, gamblers, theives, clowns, movie executives—if only to shed light on the falsity behind his country's seemingly indefatigable, desperate pursuit of success." —The New Yorker
 
"[Zuckoff] doesn't try to resolve the many contradictions surrounding Altman's life and work, but lets them stand awkwardly beside one another for the reader to sort out. . . . As a form, the oral biography is well suited to a director who loved the sound of noisy conversation." —The New York Review of Books
 
"Splendidly well-assembled. . . . Altman made amazing films, which Zuckoff's far-reaching interviews illuminate, and by all the included accounts, he led an amazing life." —The Morning News
 
"Like Altman's signature soundtracks, this babel of transcripts offers a panoramic portrait." —Chicago Sun-Times
 
"[A] marvelous, epic, tapestry-like life-scape of Robert Altman. . . . Witness by witness, Zuckoff constructs an exemplary and cautionary American life, and with the funny, tragic, and compelling tales they tell, he has made something like a print version of the Last Great Robert Altman movie." —Directors Guild Quarterly
 
"A positively 'Altmanesque' treatment. . . . [Altman] made a great Western, a great anti-war movie, a great period piece, a great detective picture, a great ballet movie and the how-Hollywood-works movie. And Zuckoff . . . is an apt choice to corner an old fast-talker like Altman. Put this oral biography on your book list." —Orlando Sentinel
 
"A fun read, more like a cocktail-party remembrance than a scholarly study. . . . Recollections of movies that strike a chord are so entertaining you'll think about adding them to your Netflix queue to see them again." —Milwaukee Journal Sentinel
 
"Zuckoff's biography is like his subject's movies, filled with a multiplicity of voices and averse to defining 'meaning.'  Yet in the end, readers understand Altman's stubborn vision, his refusal to compromise with commerce, and his hard-earned, eccentric genius." —The Boston Globe
 
"I just now put [Robert Altman] down feeling heartbroken but happily and deeply inspired. . . . Wonderful." —Wes Anderson
or
Not Currently Available for Direct Purchase