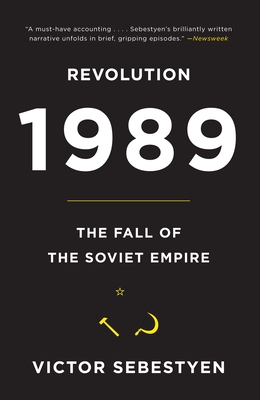 Revolution 1989
The Fall of the Soviet Empire
Paperback

* Individual store prices may vary.
Other Editions of This Title:
Hardcover (10/27/2009)
Description
Revolution 1989 is the first in-depth, authoritative account of a few months that changed the world.

At the start of 1989, six European nations were Soviet vassal states. By year's end, they had all declared national independence and embarked on the road to democracy. How did it happen so quickly? Victor Sebestyen, who was on the scene as a reporter, draws on his firsthand knowledge of the events, on scores of interviews with witnesses and participants, and on newly uncovered archival material. He tells the story through the eyes of ordinary men and women as well as through the strategic moves of world leaders. He shows how the KGB helped bring down former allies; how the United States tried to slow the process; and why the collapse of the Iron Curtain was the catalyst for the fall of the entire Soviet empire.
Praise For Revolution 1989: The Fall of the Soviet Empire…
"A must-have accounting. . . . Sebestyen's brilliantly written narrative unfolds in brief, gripping episodes." —Newsweek
 
"Numerous books have [attempted] to synthesize the compelling story of the fall of communism, but Revolution 1989 comes closest to being the essential volume. Sebestyen's elegant narrative lays out in crisp episodes what was happening . . . throughout the tumultuous 1980s." —The Daily Beast
 
"Full of sharp snapshots and crisp narrative . . . vivid personal glimpses and striking details." —The New York Review of Books
 
"Vivid, panoramic. . . . The writing is taut, the scene-setting dramatic, giving the book an almost cinematic feel." —The Sunday Times (London)
 
"A digestible and colourful history of that miraculous year." —The Economist
 
"It's a complex story spanning many countries, but this exciting yet deeply researched work brings it impressively to life. . . . Compelling." —The Observer

"Sebestyen's strength is his sharp focus and racy prose. . . . Here is history written like a Greek tragedy." —The Times (London)

"A compelling and illuminating account of a great drama in the history of our times which showed once again that ordinary men and women really can change the world." —The Mail on Sunday
  
"A rollicking mix of high drama and sordid reality . . . spiced with telling quotations." —The Independent
 
"A thrilling read. . . . Sebestyen is good at sketching the leading players but he also succinctly conveys what life was like for ordinary citizens." —Daily Express
  
"Sebestyen brilliantly pulls together the events that led to the fall of the Soviet empire." —The Spectator
 
"Superbly  written and impressively documented." —Times Literary Supplement

Vintage, 9780307387929, 496pp.
Publication Date: November 2, 2010
About the Author
 Victor Sebestyen is the author of Twelve Days: The Story of the 1956 Hungarian Revolution. He has worked for many British newspapers, including the Evening Standard. Born in Budapest, he lives in England.