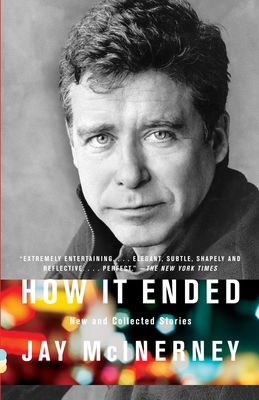 How It Ended: New and Collected Stories (Paperback)
New and Collected Stories
Vintage Books USA, 9780307387950, 395pp.
Publication Date: April 6, 2010
* Individual store prices may vary.
or
Not Currently Available for Direct Purchase
Description
From the writer whose first novel, Bright Lights, Big City, defined a generation, a collection of twenty-six stories, new and old, that trace the arc of his career for nearly three decades.
About the Author
The author of seven novels and two collections of essays on wine, Jay McInerney is a regular contributor to New York, The New York Times Book Review, The Independent and Corriere della Sera. His short fiction has appeared in The New Yorker, Esquire, Playboy, and Granta. In 2006, Time cited his 1984 debut, Bright Lights, Big City, as one of nine generation-defining novels of the twentieth century. He was the recipient of the 2006 James Beard Foundation s M.F.K. Fisher Award for Distinguished Writing and his novel The Good Life received the Prix Litteraire at the Deauville Film Festival in 2007. He lives in Manhattan and Bridgehampton, New York."
Praise For How It Ended: New and Collected Stories…
"Extremely entertaining. . .  elegant, subtle, shapely and reflective. . . . Perfect specimens." —The New York Times

"How It Ended reminds us how impressively broad McInerney's scope has been and how confidently he has ranged across wide swaths of our national experience.... He possesses the literary naturalist's full tool kit: empathy and curiosity, a peeled eye and a well-tuned ear, a talent for building narratives at once intimate and expansive, plausible and inventive." —Sam Tanenhaus, The New York Times Book Review, front page

"A master of short fiction…. The characters [McInerney] crafts are so strong, the reader continues to care about them after the last page is turned." —The Miami Herald
 
"Brim[s] with all the attendant guilt and thrills and self-defeating impulses of an extramarital tryst…. Brilliant." —The Boston Globe
 
"Fresh and smart…. Without losing his early jokey way with language or his ironic wit, [McInerney] finds new depths of understanding." —The Oregonian
 
"McInerney's star burns as bright as ever." —Vanity Fair
 
"Immediately enveloping…. This collection highlights a powerful contemporary American writer." —The Plain Dealer

"Alongside old hits . . . [How It Ended includes] an impressive selection of new work that touches upon his usual themes: money, marriage, and the social jostling involved in both. . . . McInerney's characters are engaging because they are continually falling into a trap that even their wealth cannot protect them from: They cannot tell the difference between living fully, and living without limits." —The Dallas Morning News
 
"As this new collection stylishly demonstrates, McInerney writes with elegance and wit. . . . Surprising and affecting." —Houston Chronicle
 
"[McInerney's] stories are so immediately enveloping and powerful that we don't notice how few words he uses to conjure his rich, complicated characters. . . . How It Ended is more than a victory lap for McInerney." —The Plain Dealer
 
"Superb examples of the form." —Slate
 
"Jay McInerney's collection displays his growth as a writer. . . . Heavy on sexual betrayal and social climbing." —USA Today
 
"[McInerney] is so much fun to read, especially in short story form." —The Detroit News
 
"They are hyped and hungover, rueful party animals and sapped social climbers, wayward spouses and strangers in the night. . . . Characters in Jay McInerney's How It Ended are fresh, fraught personalities." —O, The Oprah Magazine
 
"A century from now, cultural historians will plumb the works of Jay McInerney to discern what life was like in the two decades between the explosion of Wall Street wealth and the grim aftermath of 9/11. His keen-eyed depiction of that period is generously displayed in How it Ended. . . . Perceptive and real." —BookPage
 
"Sure crowd-pleasers." —San Francisco Chronicle
 
"Sharp and precisely observed. . . . What's impressive is just how good—sometimes extraordinarily so—McInerney has been. . . . Precision is precisely what separates the short story from the novel.  It's the art of letting the detail stand in for the whole, and this is where many of the stories in How It Ended make the cut as fine examples of their form." —The Toronto Star
Advertisement