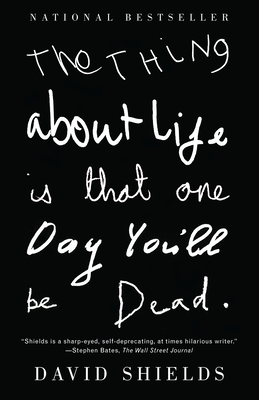 The Thing About Life Is That One Day You'll Be Dead (Paperback)
Vintage, 9780307387967, 256pp.
Publication Date: February 10, 2009
Other Editions of This Title:
Digital Audiobook (2/4/2008)
Compact Disc (2/5/2008)
Hardcover (2/5/2008)
* Individual store prices may vary.
Description
Mesmerized and somewhat unnerved by his 97-year-old father's vitality and optimism, David Shields undertakes an original investigation of our flesh-and-blood existence, our mortal being.Weaving together personal anecdote, biological fact, philosophical doubt, cultural criticism, and the wisdom of an eclectic range of writers and thinkers—from Lucretius to Woody Allen—Shields expertly renders both a hilarious family portrait and a truly resonant meditation on mortality.The Thing About Life provokes us to contemplate the brevity and radiance of our own sojourn on earth and challenges us to rearrange our thinking in crucial and unexpected ways.
About the Author
David Shields is the author of eight previous books, including Black Planet: Facing Race during an NBA Season (a finalist for the National Book Critics Circle Award), Remote: Reflections on Life in the Shadow of Celebrity (winner of the PEN/Revson Award), and Dead Languages: A Novel (winner of a PEN/Syndicated Fiction award). A senior editor of Conjunctions, Shields has published essays and stories in dozens of periodicals, including The New York Times Magazine, Harper's Magazine, Yale Review, Village Voice, Salon, Slate, McSweeney's, and Believer. He teaches at the University of Washington and lives in Seattle with his wife and daughter.
Praise For The Thing About Life Is That One Day You'll Be Dead…
"Shields is a sharp-eyed, self-deprecating, at times hilarious writer." —Stephen Bates, The Wall Street Journal "Mix equal parts of anatomy and autobiography, science and self-disclosure, physiology and family history; shake, stir, add dashes of miscellany, pinches of borrowed wisdom, simmer over a low-grade fever of mortality, and a terrible beauty of a book is born." —Thomas Lynch, The Boston Globe"An edifying, wise, unclassifiable mixture of filial love and Oedipal rage." —Lev Grossman, Time"A primer on aging and death for those who take theirs without the sugar. . . . There's a comfort to be found in this sober investigation of mortality, in Shields's clear-eyed look at the ways in which we come undone." —Benjamin Alsup, Esquire"Enthralling . . . Fascinating . . . Ultimately, the humanity of Shields' interior and exterior exploration is what makes The Thing About Life—and life itself—worthwhile." —Meredith Maran, The San Francisco Chronicle "Shields undergoes his midlife crisis and comes out the other side–more accessible than ever before, more tender, 'nicer.' And yet The Thing About Life adroitly sidesteps sentimentality–very hard to do when the core of it is a son's love for his cranky, tenacious, irascible, geriatric, Jewish father. I love this book."—David Guterson"[An] informative and occasionally unsettling meditation on [Shields's] own aging body and his [97-year-old] nonagenarian father's seemingly endless vigor and strength . . . He writes with great candor about the vitality of his father. . . Also woven into the text are clever quotes on matters corporeal from the likes of Wordsworth, Wittgenstein, Woody Allen, and Martha Graham. Shields's memoir is a sobering, at times poignant, reminder that none of us gets out of this life alive."—Booklist"David Shields has accomplished something here so pure and wide in its implications that I think of it almost as a secular, unsentimental Kahlil Gibran: a textbook for the acceptance of our fate on earth." —Jonathan Lethem"It's a bold writer who dares to tackle head-on the subject of what it means to be human–something that David Shields does with an extraordinary mixture of tenderness, humor, and inexhaustible curiosity." —Jonathan Raban"The Thing About Life grabbed me from the start. It's extremely compelling, gorgeous in many places.  I loved it. And I wish I had written it."—Lauren Slater