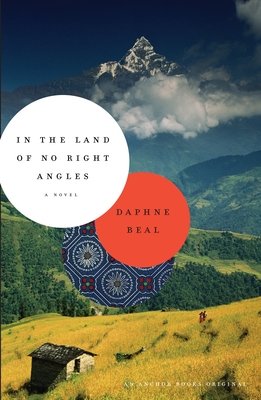 In the Land of No Right Angles (Paperback)
Anchor Books, 9780307388063, 278pp.
Publication Date: August 12, 2008
* Individual store prices may vary.
or
Not Currently Available for Direct Purchase
Description
Alex, a twenty-year-old American student, is spending the year in Nepal, backpacking and photographing. As a favor to Will - her American friend - she uses one of her Himalayan treks to seek out Maya, a young Nepali woman desperate to flee her traditional family to find work in Kathmandu. But helping Maya has unforeseen implications. Soon Alex is embroiled in a strange triangle with Maya and Will, where the lines between friendship, love, and lust grow more tangled every day.
Over the course of the next eight years, Alex returns to Nepal: first to visit and to photograph, then in an attempt to help the troubled Maya. Moving between Kathmandu, New York, and the grim houses of prostitution along Falkland Road in Bombay, Alex begins to understand the pitfalls of trying to be both adventurer and savior in an unfamiliar world. "In the""Land of No Right Angles" introduces the fiction of Daphne Beal, whose evocations of life in Nepal, and of the universal conflicts inherent to love and friendship, mark the arrival of a stunningly talented, intuitive writer.
About the Author
Daphne Beal's writing has appeared in "Vogue, McSweeney's," "Open City," and" The London Review of Books." She was on the editorial staff of "The New Yorker" and educated at Brown and New York University, where she was a "New York Times" fellow. Her work has been anthologized in "State by State: A Panoramic Portrait of America, The Believer Book of Writers Talking to Writers," and "The KGB Reader." Originally from Milwaukee, Wisconsin, she now lives in New York City with her husband, Sean Wilsey, and their two children.
Praise For In the Land of No Right Angles…
Praise for Daphne Beal's In the Land of No Right Angles

"Capturing a self-satisfied expat world of mantra-spouting Don Juans and 'highbrow hippie girl[s] taking a year off from Brown,' Beal, like a new-generation Paul Bowles, targets an essential American naivete: the tendency to romanticize–and fear–more traditional cultures. Gently satirizing the idea that any social ill can be remedied with a bit of capital and good intentions, Beal's richly textured story conjures a friendship as intimate as it is impossible." –Vogue

"An unpredictable journey of the spirit and the flesh. . . . [An] enchanting, at times perilous, tale of love, magic, and illusion." –Elle

"Beal . . . won us over. When naïve Alex makes a 'karmic connection' with magnetic Maya, there's nothing pseudo about it. . . . Would you drop everything–your job, apartment–for a friend? Mediate on that." –Marie Claire

"Vivid. . . . Tantalizingly ambiguous. . . . Beal capably describes the outsider's disorientation in a foreign land." –Rebecca Donner, BookForum

"An exquisitely rendered tale set against a continent teeming with motion. . . . [Beal] manages to trace a story that perfectly links the changing face of contemporary Nepal and the lurid underworld of Bombay's red-light district." –Time Out New York

"Beal deftly portrays the beauty of the countryside, the monasteries and temples, the quaint villages, the welcoming hinterland families and the easygoing expat community. But she also explores the soft underbelly of this opening up of Nepal and the shattering changes in tradition and desires that modernity brings." –Milwaukee Journal Sentinel

"Equal parts coming-of-age quest and travelogue, this debut novel dazzles most with its deft descriptions, which transform an unimaginably foreign land into terra cognita." –Publishers Weekly (starred review)

"A meditation on what it means to be a traveler not only of the world, but of one's own ever-changing, inner topography. Beal artfully balances clarity and chaos, and explores how even the thinnest line of human connection . . . can alter a person for good. . . . A subtly resonant masterpiece." –Heidi Julavits, author of The Uses of Enchantment

"Instantly suspenseful. . . . Beal's intimate knowledge of Nepal . . . shines from these pages, making her a frank and humane tour guide into an underworld she makes fully her own." –Jennifer Egan, author of The Keep

"Haunting, spare, fascinating. . . . A sharp, keenly observed meditation on friendship, on desire." –Alison Smith, author of Name All the Animals
Advertisement