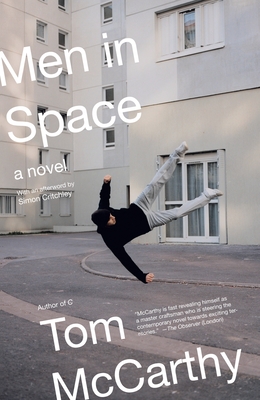 Men in Space (Paperback)
Vintage Books, 9780307388223, 293pp.
Publication Date: February 7, 2012
Description
The first novel written by Booker finalist Tom McCarthy--acclaimed author of Remainder and C--Men in Space is set in a Central Europe rapidly fragmenting after the fall of communism. It follows an oddball cast--dissolute bohemians, political refugees, a football referee, a disorientated police agent, and a stranded astronaut--as they chase a stolen painting from Sofia to Prague and onward. Planting the themes that McCarthy's later works develop, here McCarthy questions the meaning of all kinds of space--physical, political, emotional, and metaphysical--as reflected in the characters' various disconnections. What emerges is a vision of humanity adrift in history, and a world in a state of disintegration. With an afterword by Simon Critchley, author of The Book of Dead Philosophers
About the Author
Tom McCarthy was born in 1969 and lives in London. He is known in the art world for the reports, manifestos, and media interventions he has made as General Secretary of the International Necronautical Society (INS), a semi-fictitious avant-garde network. His other books include C, Remainder, and Tintin and the Secret of Literature.
Praise For Men in Space…
"Sophisticated. . . . A rich, encyclopedic text whose knowledge isn't confined to aesthetics. . . . An intellectually voracious cross section of a historical moment, and a thrilling indication of the vitality of the contemporary British novel."
—The New York Times Book Review
 
"[McCarthy] is an agile and venturesome writer, adeptly shaping these disparate voices into a thrilling and satisfying symphony."
—The New Yorker
 
"Imaginative, brooding, and stoutly thematic—even a bit romantic. The pacing is unique, and McCarthy is without a doubt an Important Literary Voice. . . . It's impossible to ignore the beautiful style of the prose. . . . It is clever that a treatise on the universal tendency to cut-and-paste, literally and figuratively, is set in the pre-email, pre-digital world. It is almost as if the goings-on were recorded in lush analog: everything that comes after moves too fast for the human eye to observe."
—The Houston Chronicle
 
"There's an unmistakably desperate edge to the social frenzy among the Prague expats chronicled in Tom McCarthy's second novel, Men In Space. Their involvement in an art heist gone wrong on the eve of the Czech Republic's creation ultimately provides these foreigners with a sense of reckoning that suffuses all their good times. . . . McCarthy reports their struggles with irony but also kindness."
—The Onion A.V. Club
 
"McCarthy depicts cosmopolitan street life with astonishing detail and humor. . . . Worth quoting at length."
—Open Letters Monthly
 
"Intriguing. . . . McCarthy deftly knits together a continuous, chapterless narrative of changing viewpoints. The central story is intense and interesting. . . . Best described as Philip K. Dick's A Scanner Darkly meets Milan Kundera's The Book of Laughter and Forgetting; this is a tribute to what the novel can be. Enthusiastically recommended."
—Library Journal
 
"The author, who lived through this tumultuous historical period and wrote this book in Prague, makes tangible the heady rush of freedom; his bone-deep understanding gives this transformative period a visceral charge."
—Publishers Weekly

"McCarthy is fast revealing himself as a master craftsman who is steering the contemporary novel towards exciting territories."
—The Observer (London)

"A confident and intelligent meditation on failed flights of transcendence."
—Times Literary Supplement
Advertisement