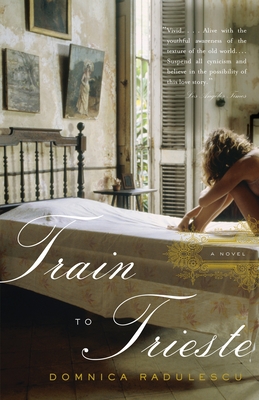 Train to Trieste (Paperback)
Vintage Books USA, 9780307388360, 305pp.
Publication Date: August 11, 2009
* Individual store prices may vary.
or
Not Currently Available for Direct Purchase
Description
In the summer of 1977, seventeen-year-old Mona Manoliu falls in love with Mihai, a green-eyed boy who lives in Brasov, the romantic mountain city where she spends her summers. But under the Ceausescu dictatorship, paranoia infects everyone; soon Mona begins to suspect that Mihai is part of the secret police. As food shortages worsen and her loved ones begin to disappear, Mona realizes that she too must leave. Over the next twenty years, she struggles to bury her longing for the past, yet she eventually finds herself compelled to return, determined to learn the truth about her one great love.
About the Author
Domnica Radulescu was born in Romania and came to the United States in 1983. She holds a Ph.D in French and Italian Literature from the University of Chicago, and is currently a Professor of Romance Languages and Chair of the Women's Studies program at Washington and Lee University in Lexington, Virginia. She has written and edited books and scholarly articles on European and Eastern European literature, and has also worked in theater for two decades, directing plays by Eugene Ionesco, Samuel Beckett, Fernando Arrabal, and Jean Tardieu. She is a recipient of National Endowment for the Humanities and Fulbright grants. Train to Trieste is her first novel.
Praise For Train to Trieste…
"Vivid. . . . . Alive with the youthful awareness of the texture of the old world. . . . Suspend all cynicism and believe in the possibility of this love story." —Los Angeles Times"Deeply moving and deeply felt. . . . An unforgettable story that introduces a new and astonishingly fresh voice." —Arthur Golden, author of Memoirs of a Geisha "Sweeping, gorgeous. . . . Every page in this elegant, sophisticated novel drips with detail." —The San Diego Union-Tribune"Radulescu's novel, sprung from an autobiographical impulse, powerfully combines the intensity of first love, the confusion of politics, and the melancholy of exile." —The Boston Globe"I was swept away by Domnica Radulescu's debut novel. It's at once a haunting journey to a faraway country, beautiful and terrifying, and an odyssey straight to the heart of a young girl and the remarkable woman she becomes. Deeply moving and deeply felt, Train to Trieste is an unforgettable story that introduces a new and astonishingly fresh voice."–Arthur Golden, author of Memoirs of a Geisha"A spirited, passionate, funny look at the world in the time of the new millennium. Domnica Radulescu is a remarkable writer enriching American letters with her Romanian perspective. We are lucky to call her ours."–Sandra Cisneros, author of The House on Mango Street"Richly poetic . . . Mona, an impulsive Bucharest teen, falls in love with Mihai, a boy from the mountains. He's just lost his longtime girlfriend to a violent accident, and Mona's drawn to the rawness of his grieving. Her youth in Romania is a flurry of sensual pleasures, despite the fear and want endemic to life under a Stalinist regime. . . . Though Mona grapples with secret police and with scarcity, her evocations of the pleasures of youth and love are indomitably joyous, almost synesthetic in their sensuality. . . . Mona's story spins out over years, as she builds an American life that's forever overshadowed by the one she left behind. Fittingly, the novel ends in Romania, on her first trip back. Radulescu beautifully evokes the timelessness of spaces, as Mona's middle-aged self attempts to fit into landscapes she moved in as a young woman. The book's final pages raise as many questions as they answer, but Radulescu is happy to leave something to the imagination."–Melissa Albert, Time Out Chicago "A must-read thriller. Radulescu writes with intensity and urgency and pulls readers along with her first-person account of escape, survival and love. . . . Mona Manoliu is a student and blossoming beauty of 17 when she meets Mihai while vacationing in the beautiful foothills of the Carpathians. Radulescu's descriptions of this region speak volumes about her intimate knowledge of her home country. Innocent love risks discovery back home in Bucharest as Mona's father pursues hidden agendas, and even best friends are suspected enemies. Savagery and starvation prevail as Ceausescu and cohorts bleed the country of food and money. Mona's family urges her to flee . . . [After living in America for years,] Mona makes the return to her homeland and her first love. What she finds is a revelation that is both unsettling and satisfying. Mona Manoliu lives her life in rapid, staccato bursts of action and emotion. Readers will page through her adventures with precisely the same feelings." –Barbara Dickinson, The Roanoke Times (October 12, 2008)"Unique . . . Like an oven on fire, with a typewriter and love letters, Train to Trieste bursts forward with a novel definition of woman, family, and instantaneous decision. Mona Maria Manoliu is a protagonist who captivates through sheer boldness and endless adventure. [She is also] a feisty woman who is in love during dangerous political divisions. . . . Daring with words, Radulescu narrates the political tensions that Ceausescu throws upon Bucharest and Romania. . . . The power of now, the necessity of the present, and a woman's decisive intuition explode from every page."–Kimberly Gilmour, Seven Times (September 10, 2008)"It's a long way from Romania to Lexington [Virginia], but Domnica Radulescu has made the transition with grace. . . . Train to Trieste tells the story of Mona Manoliu, who's 17 when the story begins in the late 1970s. A relationship with a young man she comes to believe is a member of Romania's secret police makes her flee to America via Italy. Years later, she returns to Romania and discovers the truth. More than a coming-of-age story, the novel is an exploration of a brutal regime and the new life Mona finds in the United States. Radulescu is a Virginia author with a fresh perspective who gives voice to both her native and adoptive lands."–Jay Strafford, Richmond Times-Dispatch (August 31, 2008)"True love is hard to find, but it's priceless–a lesson it takes feisty and vivacious Mona Manoliu decades to learn. A 17-year-old student in late 1970s Romania, Mona has fallen hard for the charismatic Mihai, whom she meets when summering with her family in the foothills of the Carpathians. Back home in Bucharest, her father pursues clandestine activities, and the family barely eats, but Mona is starry-eyed about Mihai–until she sees him in a black leather jacket, the favored outfit of the secret police, and encounters a crazed woman who asks her whether she really knows who he is. Then her family persuades her to flee to the West, and she's off to America via Italy via Bucharest. Years later, Mona returns to Romania and discovers the truth about Mihai–a revelation that, against all expectations, is both startling and satisfying. . . . Engaging, evocative, intensely sensual, and sharply perceptive, conveying both the horrors of the Ceausescu regime and the ironies of Mona's experiences in America. A strong first novel."–Barbara Hoffert, Library Journal"A page turner: I read Train to Trieste with multitudinous gasps of delight, breathlessly and quickly."–Andrei Codrescu, author of The Blood Countess and commentator, "All Things Considered""Startling . . . a passionate narrative, intertwining political and love intrigues in the most thrilling ways. Train to Trieste is seductive and suspenseful, shimmering with linguistic brilliance and marvelous images.  Lovers seem to be spies, and informants fall in love, in this story full of intelligence and beauty."–Josip Novakovich, author of April Fool's Day"Magnificent . . . Dominica Radulescu writes the incredible journey of seventeen-year-old Mona Manoliu and her struggles with the basic need for a woman–love–in a time of hunger, fear, and death. . . . The resolution [of Mona's story], although shocking and riveting, brings a satisfaction and happiness; the true mark of a great writer. This was perhaps one of the most touching stories that I have ever read. The sensuous language and the artistry, in which the words are woven to tell the tale of Mona, connected me greatly with the character. I felt her love, passion, and anguish throughout the story. . . . I felt a great connection to [Radulescu], as if she were speaking to me, almost in a luring way. Enchanting and beautiful, at the same time chaotic and strong, Mona was a girl that I could envision and almost touch as if she were real. Train to Trieste [is] fantastic in every way, I just simply loved it."–Beatriz C., Bookdivas.com (October 2008)
Advertisement