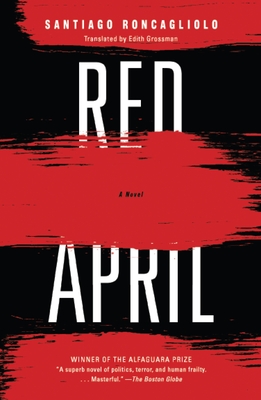 Red April (Vintage International)
Paperback

* Individual store prices may vary.
Description
A chilling political thriller set at the end of Peru's grim war between Shining Path terrorists and a morally bankrupt government counterinsurgency.
 
Associate District Prosecutor Felix Chacaltana Saldivar is a by-the-book prosecutor wading through life. Two of his greatest pleasures are writing mundane reports and speaking to his long-dead mother. Everything changes, however, when he is asked to investigate a bizarre and brutal murder: the body was found burnt beyond recognition and a cross branded into its forehead. Adhering to standard operating procedures, Chacaltana begins a meticulous investigation, but when everyone he speaks to meets with an unfortunate and untimely end, he realizes that his quarry may be much closer to home. With action rising in chorus to Peru's Holy Week, Red April twists and turns racing toward a riveting conclusion. 
Vintage, 9780307388384, 288pp.
Publication Date: August 10, 2010
About the Author
SANTIAGO RONCAGLIOLO was born in Lima, Peru, in 1975. He is the author of two other novels; Red April, which will appear in eleven languages, marks his debut in English. He currently lives in Barcelona.

EDITH GROSSMAN is the award-winning translator of such masterworks as Cervantes's Don Quixote and García Márquez's Love in the Time of Cholera.