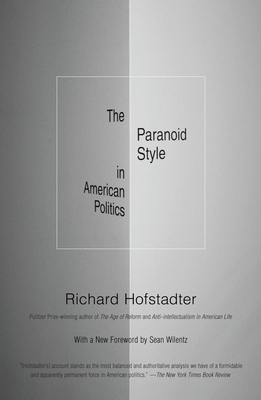 The Paranoid Style in American Politics
Paperback

* Individual store prices may vary.
Description
This timely reissue of Richard Hofstadter's classic work on the fringe groups that influence American electoral politics offers an invaluable perspective on contemporary domestic affairs.In The Paranoid Style in American Politics, acclaimed historian Richard Hofstadter examines the competing forces in American political discourse and how fringe groups can influence — and derail — the larger agendas of a political party. He investigates the politics of the irrational, shedding light on how the behavior of individuals can seem out of proportion with actual political issues, and how such behavior impacts larger groups. With such other classic essays as "Free Silver and the Mind of 'Coin' Harvey" and "What Happened to the Antitrust Movement?, " The Paranoid Style in American Politics remains both a seminal text of political history and a vital analysis of the ways in which political groups function in the United States.
Praise For The Paranoid Style in American Politics…
"[Hofstadter's] account stands as the most balanced and authoritative analysis we have of a formidable and apparently permanent force in American politics." —The New York Times Book Review"Hofstadter's essays . . .are calm, clear, dispassionate and devastating-a joy to read." —Harper's"Hofstadter's status theory helps us understand a political history that goes far beyond the issues of the fifties and sixties which it was invoked to explain." —New Republic
Vintage, 9780307388445, 368pp.
Publication Date: June 10, 2008
About the Author
Born in 1916, Richard Hofstadter was one of the leading American historians and public intellectuals of the 20th century. His works include The Age of Reform, Anti-intellectualism in American Life, Social Darwinism in American Thought, 1860-1915, The American Political Tradition, and others. He died in 1970.