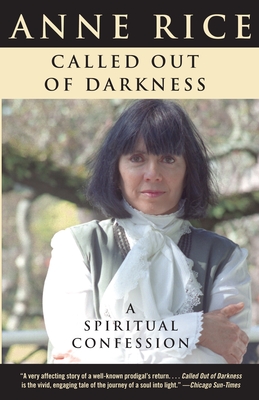 Called Out of Darkness (Paperback)
A Spiritual Confession
Anchor, 9780307388483, 256pp.
Publication Date: March 9, 2010
Other Editions of This Title:
Digital Audiobook (10/6/2008)
Compact Disc (10/7/2008)
Hardcover (10/7/2008)
Paperback (10/1/2009)
* Individual store prices may vary.
Description
Anne Rice's first work of nonfiction—a powerful and haunting memoir that explores her continuing spiritual transformation.
 
Anne Rice was raised in New Orleans as the devout child in a deeply religious Irish Catholic family. Here, she describes how, as she grew up, she lost her belief in God, but not her desire for a meaningful life.  She used her novels—beginning with Interview with a Vampire—to wrestle with otherworldly themes while in her own life, she experienced both loss (the death of her daughter and, later, her beloved husband, Stan Rice) and joys (the birth of her son, Christopher).  And she writes about how, finally, after years of questioning, she experienced the intense conversion and re-embracing of her faith that lie behind her most recent novels about the life of Christ.
About the Author
Anne Rice is the author of twenty-nine books. She lives in Rancho Mirage, California.
Praise For Called Out of Darkness: A Spiritual Confession…
"[A] very affecting story of a well-known prodigal's return. . . . Called Out of Darkness is the vivid, engaging tale of the journey of a soul into light." —Chicago Sun-Times

"Rice couples her writing talents with the zeal of a recent convert." —Christianity Today
  
"Rice could rival C.S. Lewis as a popular apologist for the faith." —Time

"Rice's memoir shows what true belief really involves. It exacts a price. James Agee had a lovely term for this. He called it 'cruel radiance.'" —Los Angeles Times
 
"Anne Rice is not a convert but a revert. . . . A loving reconstruction of the pre–Vatican II Church of the 1940s and 1950s. . . . [After] twenty-five years and twenty-one books . . . Rice entrusts both herself and the people she loves to God." —First Things
 
"Called Out of Darkness is rich in both poetic simplicity and liberating confessionals. This memoir is not to be missed." —East Bay Literary Examiner
 
"I am not a Christian and I normally don't read what I would call Christian books. They don't appeal to me, they don't interest me and I normally pass them by in the bookstore. . . . [But] I picked up [Called Out of Darkness] up this afternoon and it's beyond wonderful." —Jamieson Wolf
 
"As a long-time reader of Anne Rice's, the impetus she presents here makes me want to re-read many of her prior works. I highly recommend this book to anyone who seeks the inspiration and motivation behind the bestselling novels they've read."—BookReporter.com

"Nothing short of magnificent. . . . What a real blessing, what a vulnerable sharing." —Flos Carmeli

"A lovely, intelligent book." —PopMatters

"Even if you don't consider yourself to be a religious person—even if you are not a Christian—read this book. Anyone can appreciate the message contained in Called Out of Darkness. . . . It is a thinking person's approach to faith." —Edge (Provincetown, MA)