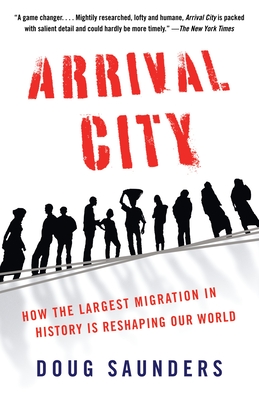 Arrival City
How the Largest Migration in History Is Reshaping Our World
Paperback

* Individual store prices may vary.
Other Editions of This Title:
Paperback, Chinese (2/1/2012)
Hardcover (3/22/2011)
Paperback (9/1/2011)
Hardcover (9/21/2010)
Description
A powerfully argued work that combines reporting, sociology, economics, and urban studies to show how the migration of workers from villages to urban centers has become one of the most significant forces in the world today.

For the first time in history, there are now more people in the world living in cities than in rural areas, and many of them are clustering on the urban outskirts. Arrival City argues that this incredible movement of peoples, unfolding before our eyes, will be one of the most important trends in the twenty-first century. From Istanbul to Los Angeles, from Warsaw to Shenzhen, China, Doug Saunders shows how the success or failure of the immense communities forming on the fringes of traditional cities is having a profound effect on local, national, and international development.
Praise For Arrival City: How the Largest Migration in History Is Reshaping Our World…
"A game changer. . . . Mightily researched, lofty and humane, Arrival City is packed with salient detail and could hardly be more timely."
—The New York Times

"Arrival City presents an optimistic and humane view of global urbanization. Let's hope urban planners and politicians pay attention." 
—The Wall Street Journal

"With the voice of a seasoned reporter, Saunders writes compelling, firsthand narratives describing the challenges and triumphs of migrant families from across the globe."
—The San Francisco Chronicle
 
"Arrival City asks that we take a closer look at urbanization before its mismanagement is further mistaken for the thing itself, and to recognize that a citified future is not necessarily a doomed one."
—NPR

"One of the year's most engaging and important works of nonfiction."
—The Independent (London)
 
"A timely contribution to the discourse on global cities. . . . Saunders offers a readable, immediate social history."
—The Globe and Mail
 
"A brisk world tour of enormous urban-fringe neighborhoods populated by people who have left the countryside. . . . Perhaps because Saunders is a journalist who isn't selling his advice, his version of the city is . . . more persuasive."
—The New Yorker
 
"One does not need to be a cynic, alas, to suspect that cities and nations may not apply their best policies to their worst neighborhoods. But for those who are wise enough to try, Saunders has written the manual."
—Bookforum
 
"Skilled in both colourful reportage and sustaining a good argument, [Saunders] provides a badly needed progressive and optimistic narrative about our future. . . . This may be the best popular book on cities since Jane Jacobs's The Death and Life of Great American Cities. . . . Few books can make rationalists feel optimistic and empowered for the future. [Arrival City] does."
—The Guardian (London)
 
"Saunders's approach is through anecdotes and vignettes, but . . . they cumulate into a persuasive whole. . . . Saunders's practical suggestions for helping immigrants . . . are sure to attract attention. . . . [A] highly readable book."
—Financial Times
 
"A masterpiece of reporting, one of the most valuable and lucid works on public policy published anywhere in years."
—Edmonton Journal
 
"Important. . . . Saunders's greatest strength lies in the global breadth of his reportage. . . . His evocative descriptions . . . transform a complex, serious subject into a page-turning read."
—Literary Review
 
"A broadly researched, passionate and portentous call for a new way to look at the experience of migrants. It is essential reading . . . for all who look at the future of cities with a mix of hope and fear."
—Winnipeg Free Press
 
"[An] incisive study of worldwide rural-to-urban migration, its complex social mechanisms and the consequences of institutional neglect. . . . An essential work for those who pay attention to the effects of globalization—which is, or at least should be, nearly everyone."
—Kirkus Reviews
 
"Doug Saunders is neither a glum pessimist nor a glib optimist and Arrival City will not please closed minds. But this provocative, disturbing, and exhilarating book is a delight for thoughtful readers. Indeed, it is essential. Migration is reshaping the world and, as Saunders demonstrates, the choices we make today will determine whether it brings prosperity or catastrophe tomorrow."
—Dan Gardner, author of The Science of Fear
 
"Arrival City is scarier than a dark urban fantasy and more gritty than the bottom of a demographer's coffee cup. It's also highly topical, as population growth and immigration are subjects of heated debate worldwide."
—Daily Mercury

Vintage, 9780307388568, 384pp.
Publication Date: April 3, 2012
About the Author
Doug Saunders is an award-winning journalist and the European bureau chief of The Globe and Mail. He lives in London.