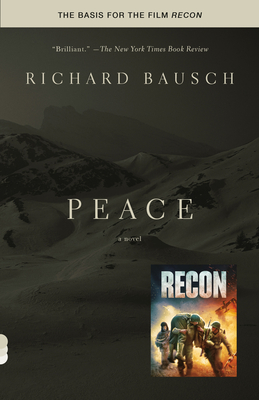 Peace (Vintage Contemporaries)
Paperback

* Individual store prices may vary.
Other Editions of This Title:
Hardcover (4/15/2008)
Compact Disc (7/14/2008)
Compact Disc (7/14/2008)
MP3 CD (7/14/2008)
Description
This "small masterpiece with the same emotional force and moral complexity as Conrad's Heart of Darkness and Tolstoy's Hadji Murad" (Colm Tóibín) inspired the film Recon.

Italy, near Cassino, in the terrible winter of 1944. An icy rain, continuing unabated for days. Guided by a seventy-year-old Italian man in rope-soled shoes, three American soldiers are sent on a reconnaissance mission up the side of a steep hill that they discover, before very long, to be a mountain.

As they climb, the old man's indeterminate loyalties only add to the terror and confusion that engulf them. Peace is a feat of storytelling from one of America's most acclaimed novelists: a powerful look at the corrosiveness of violence, the human cost of war, and the redemptive power of mercy.
Praise For Peace (Vintage Contemporaries)…
"Brilliant." —The New York Times Book Review
"Embedded in a landscape at once bleak and beautiful, Peace, like other classic war stories, discloses in the sparest language the spiritual darkness of war." —O, The Oprah Magazine
"Perfect. . . . Bausch slips you so smoothly and unnervingly into the world of these young soldiers on patrol that you won't quite know how you got there. . . . His narrative moves like a cat on the hunt: supple and strong, without an ounce of energy wasted." —Seattle Times
"A spare and haunting meditation on the confusing and contradictory choices wars inflict on those who fight them." —Minneapolis Star-Tribune
"Every single word of Richard Bausch's beautiful, spare new novel Peace rings darkly, tragically true." —Richard Russo
"Richard Bausch's Peace, set at the end of the Second World War in Italy, is a small masterpiece with the same emotional force and moral complexity as Conrad's Heart of Darkness and Tolstoy's Hadji Murad." —Colm Tóibín
"The experiences of battle fatigue and constant exposure to mortal danger are depicted with raw immediacy and terse power in this short novel from veteran Bausch. . . . [E]choes of Stephan Crane, James Jones and particularly William Styron's The Long March. But Bausch sustains a gripping atmosphere of wintry dread, and he keeps the reader hooked with subtly accreting little surprises. . . . Bausch admirably turns a familiar story into something genuinely new." —Kirkus Reviews (starred review)
"An abrupt and chilling act of violence opens Bauch's 11th novel, marking the beginning of a bleak but compelling meditation on the moral dimensions of warfare." —Publishers Weekly (starred review)
"[A] consummate and versatile short story writer and novelist tells one soldier's story in a war novel distilled to its chilling essence. . . . Bausch's tale of one act in the immense blood-dark theater of military conflict is razor-sharp, sorrowfully poetic, and steeped in the wretched absurdity of war, the dream of peace." —Booklist (starred review)
"Bausch is best known for his short stories, but this powerful novella demonstrates his skill at spare language and tight construction." —Library Journal
Vintage, 9780307388582, 192pp.
Publication Date: April 7, 2009
About the Author
This is Richard Bausch's eleventh novel. His work has appeared in The New Yorker, The Atlantic Monthly, Esquire, Playboy, GQ, Harper's Magazine, and other publications and has been featured in numerous best-of collections, including The O. Henry Awards' Best American Short Stories, and New Stories from the South. He is chancellor of the Fellowship of Southern Writers and lives in Memphis, Tennessee, where he is Moss Chair of Excellence in the Writer's Workshop of the University of Memphis.