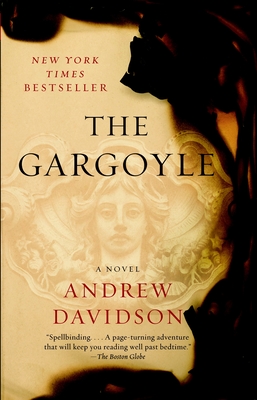 The Gargoyle
Paperback

* Individual store prices may vary.
Other Editions of This Title:
Digital Audiobook (8/4/2008)
Description
A New York Times Bestseller

The Gargoyle: the mesmerizing story of one man's descent into personal hell and his quest for salvation.
On a dark road in the middle of the night, a car plunges into a ravine. The driver survives the crash, but his injuries confine him to a hospital burn unit. There the mysterious Marianne Engel, a sculptress of grotesques, enters his life. She insists they were lovers in medieval Germany, when he was a mercenary and she was a scribe in the monastery of Engelthal. As she spins the story of their past lives together, the man's disbelief falters; soon, even the impossible can no longer be dismissed.
Praise For The Gargoyle…
"Spellbinding. . . . A page-turning adventure that will keep you reading well past bedtime." —The Boston Globe"An undeniably hot book. . . . It's as engrossing as it is gruesome, the kind of horror you watch with one eye closed. . . . A hell of a story." —The Washington Post"Take a deep breath and plunge into this novel. It's a tale of love and redemption told through Davidson's haunting prose. " —USA Today"A transportingly unhinged debut. . . . Vigorous and impressive." —The New York Times "Keeps the pages turning." —The Plain Dealer "Take a deep breath and plunge into this novel. It's a tale of love and redemption told through Davidson's haunting prose." —USA Today "Mr. Davidson skillfully assembles a centuries-old puzzle involving a series of fables of undying love. . . . The reader is kept guessing until the final pages." —The Wall Street Journal"Mixes medical drama with medieval religious lore to explore the boundaries of faith and forgiveness. . . . Compelling." —San Francisco Chronicle "Reads like the mad spawn of Anne Rice and Stephen King." —Providence Journal "Original and highly addictive. . . . Captivating. . . . An impressive, memorable debut." —The Denver Post "A story that sweeps us in with no protest. You want to be lost in its pages. . . . The real tragedy of this book is that it ends." —Daily News"Beguiling. . . . Mixing romance, classic allusion and reality, Davidson's debut is a bravura performance." —Marie Claire"I was blown away by Andrew Davidson's The Gargoyle. It reminded me of Life of Pi, with its unanswered (and unanswerable) contradictions. A hypnotic, horrifying, astonishing novel that manages, against all odds, to be redemptive." —Sara Gruen, author of Water for Elephants"The Gargoyle is purely and simply an amazement, a riot, a blast. It's hard to believe that this is Andrew Davidson's first novel: He barrels out of the chute with the narrative brio and confidence, not to mention the courage, of a seasoned master. This book plucks the reader off the ground and whirls her through the air until she shouts from sheer abandonment and joy. What a great, grand treat." —Peter Straub
Anchor, 9780307388674, 528pp.
Publication Date: August 4, 2009
About the Author
ANDREW DAVIDSON was born in Pinawa, Manitoba, and graduated in 1995 from the University of British Columbia with a B.A. in English literature. He has worked as a teacher in Japan, where he has lived on and off, and as a writer of English lessons for Japanese Web sites. The Gargoyle, the product of seven years' worth of research and composition, is his first book. Davidson lives in Winnipeg, Manitoba.
The Gargoyle begins with arguably one of the most stunning opening scenes in contemporary literature. How was the author able to make horrifying details alluring? What was your initial reaction to these images?
How were you affected by the narrator's voice and his ability to address you in an intimate, direct monologue? How did his storytelling style compare to Marianne's? In what ways did these tales balance reality and surrealism?
Arrows form a recurring symbol throughout the novel. What are their various uses as tools of war and of love? What makes them ideal for Marianne's stories?
What medical aspects of the narrator's treatment surprised you the most? Did his gruesome journey change the way you feel about your own body?
How did Marianne's experience of God evolve and mature throughout her life? How do you personally reconcile the concept of a loving God and the reality of human suffering?
Marianne uses her body as a canvas. What messages does it convey? How does the narrator "read" bodies before his accident, both in front of the camera and while picking up less-dazzling strangers?
Discuss the role of ghosts and memory in The Gargoyle. In what ways does the past repeat itself? How are the characters shaped by past circumstances? When are their painful cycles to be broken?
What does Marianne's copy of The Inferno indicate about the value of books beyond their content? In what way can a book also be an art object, or an artifact of history?
Eventually, Nan reveals her own burn scars. What motivates the novel's healers–including Nan, Marianne, Sayuri, and Gregor? Whom does the narrator heal?
Discuss the role of money throughout The Gargoyle. What kept Jack honest? What did it mean for Marianne, a woman, to have far more money than the men in her life, both in the 14th century and in the contemporary storyline?
How did you interpret the narrator's own Dante-esque tour, described in Chapter Twenty-nine? Was he hallucinating, in the throes of withdrawal while he kicked the bitchsnake of morphine, or did he journey to an underworld? Or both? Was Marianne a mere mortal?
The novel closes with Marianne's departure and the marriage of Gregor and Sayuri. The narrator grapples with guilt, trying to understand whether he could or should have saved Marianne. What enabled Gregor and Sayuri to recognize and nurture their love for one another? What determines whether a relationship will become exhausted or perpetually revitalized? Is fate or willpower the greater factor?
An old adage, evidenced particularly in Shakespeare's works, states that a comedy ends with a marriage, while a tragedy ends with a death. Given that The Gargoyle ends with both a marriage and a death, what does it say about the work?