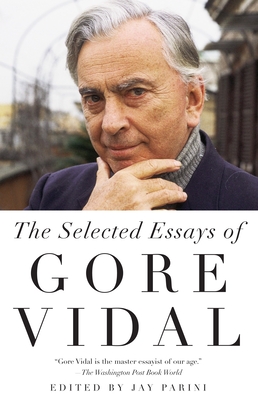 The Selected Essays of Gore Vidal (Paperback)
Vintage Books USA, 9780307388681, 458pp.
Publication Date: June 16, 2009
Description
Gore Vidal--novelist, playwright, critic, screenwriter, memoirist, indefatigable political commentator, and controversialist--is America's premier man of letters. No other living writer brings more sparkling wit, vast learning, indelible personality, and provocative mirth to the job of writing an essay.This long-needed volume comprises some twenty-four of his best-loved pieces of criticism, political commentary, memoir, portraiture, and, occasionally, unfettered score settling. It will stand as one of the most enjoyable and durable works from the hand and mind of this vastly accomplished and entertaining immortal of American literature.
About the Author
Gore Vidal was born in 1925 at the United States Military Academy at West Point. His first novel, Williwaw, written when he was nineteen years old and serving in the Army, appeared in the spring of 1946. Since then he has written twenty-three novels, five plays, many screenplays, short stories, well over two hundred essays, and a memoir.Jay Parini (born 1948) is an American writer and academic. Among his works of fiction and criticism are The Last Station, John Steinbeck, and Benjamin's Crossing. Parini is Gore Vidal's literary executor and a regular contributor to various journals and newspapers, including The Chronicle of Higher Education and The Guardian (U.K.). In 1976, he cofounded New England Review, and he has taught at Middlebury College since 1982. He lives in Vermont.
Praise For The Selected Essays of Gore Vidal…
"Gore Vidal is the master essayist of our age." —The Washington Post Book World"Vidal is the best all-around American man of letters since Edmund Wilson." —Newsweek "Wonderfully selected. . . . All classic Vidal essays are here. . . . [They] confirm Vidal's stature." —The Buffalo News"Gore Vidal, essayist; so good that we cannot do without him. He is a treasure of the state." —R.W.B. Lewis, The New York Times Book Review"Fearlessness and independence of mind are the strengths in this author's arms, but his heart's love is language and the richness of language."—Los Angeles Times Book Review
Advertisement