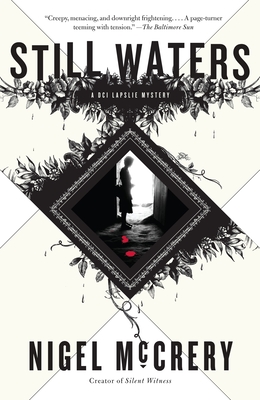 Still Waters (Paperback)
Vintage Books USA, 9780307388704, 275pp.
Publication Date: July 14, 2009
* Individual store prices may vary.
or
Not Currently Available for Direct Purchase
Description
Razor-sharp and mesmerizingly eerie with one of the most clever and ruthless villains to appear in ages Still Waters is a stunning start to an exciting new crime series.
DCI Mark Lapslie is called in when the decayed body of an elderly woman is unearthed. The body provides few clues, beyond the fact that the murderer had a deadly knowledge of household plants. The dearth of evidence is not Lapslie's only problem. He's just returned to the force after a year trying to overcome the worst symptoms of his synesthesia, a neurological condition that causes him to taste sound. The murder appears to be the work of a serial killer who could strike again at any moment, so Lapslie has to find a way to make his synasethsia work for him, not against him. Otherwise the next life taken could be his own.
About the Author
Nigel McCrery worked as a police officer before entering Cambridge University as an undergraduate. He is the creator of the acclaimed television series Silent Witness, and his screenwriting credits include several other programs for the BBC. He is also the author of many novels, including the Dr. Samantha Ryan mysteries. He lives in London. From the Hardcover edition.
Praise For Still Waters…
"McCrery's stellar thriller starts with a gruesome bang."
--Entertainment Weekly

"Creepy, menacing, and downright frightening. . . . A page turner teeming with tension."
--The Baltimore Sun

"First-rate entertainment. . . . Creepy and occasionally comical. . . . Still Waters is no garden-variety mystery. From its breathtakingly brutal prologue to its horrifying revelation of responsibility, it will leave you marveling at McCrery's storytelling skills. And how many mysteries can you name that quote Browning, Yeats and Eliot?"
--Richmond Times-Dispatch

"Chilling. . . . Violet Chambers is the dark side of Miss Marple."
--Los Angeles Times Book Review

"Highly original. . . . Arsenic and Old Lace meets the Galloping Gourmet in Still Waters, the first in a series of tasty mysteries."
--Madison County Herald

"Every writer needs a hook, and Nigel McCrery provides just that in the prologue of Still Waters. He throws out the line and snags the reader right away. This shocking opening is one tantalizing lead-in."
–The Post and Courier, Charleston, South Carolina

"This exquisitely macabre mystery will keep you firmly planted until the last page is turned."
--Milwaukee Journal Sentinel

"Touted as the beginning of a series, Still Waters will rush by at a stunning pace. Nigel McCrery, author of the Dr. Samantha Ryan mysteries, brings readers a brand new slant on the detective novel and a fresh face in the police department."
--Bookreporter

"A must read."
--Kirkus Reviews (starred)

"Hook[s] a reader positively and absolutely. [McCrery is] expert at the fast-paced thriller."
--Library Journal (starred)

"Extremely creepy . . . Compelling."
--Booklist

"McCrery introduces an excellent new detective . . . Highly original."
--Daily Mail

"Arresting . . . Few readers will put the book down."
--Daily Express

"A fast-moving, original and often genuinely frightening novel."
--Euro Crime

"Arsenic and Old Lace run wonderfully amok."
--Time Out, London
Advertisement