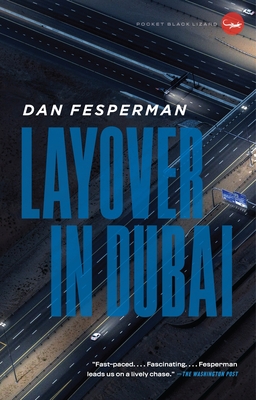 Layover in Dubai (Paperback)
Vintage Crime/Black Lizard, 9780307388735, 336pp.
Publication Date: June 28, 2011
* Individual store prices may vary.
Description
Award-winning author Dan Fesperman delivers a suspenseful and stunning thriller set in the mysterious and gleaming city of Dubai. 
 
Sam Keller, an auditor at a giant pharmaceutical firm, expected a six-hour layover in Dubai. Then his company's corporate security officer asked him to extend his stay two days to keep an eye on a hard-partying colleague. Sam agrees, but against his better judgment, he decides to live it up a little, which has disastrous results. First Hatcher is murdered. Then Sam is arrested. Was he set up? Unsure whether he can trust his employer, Sam forms an unlikely alliance detective with Anwar Sharaf, a former pearl diver and gold smuggler. As the duo works its way toward the heart of the case, plunging waist-deep into a lethal mix of mobsters, prostitutes, crooked cops, consuls, and corporate players, each must confront the darkest forces threatening Dubai from within.
About the Author
Dan Fesperman's travels as a writer have taken him to thirty countries and three war zones. Lie in the Dark won the Crime Writers' Association of Britain's John Creasey Memorial Dagger Award for best first crime novel, The Small Boat of Great Sorrows won their Ian Fleming Steel Dagger Award for best thriller, and The Prisoner of Guantánamo won the Dashiell Hammett Award from the International Association of Crime Writers. He lives in Baltimore.
Praise For Layover in Dubai…
"Fast-paced. . . . Fascinating. . . . Fesperman leads us on a lively chase." —The Washington Post
 
 "A frantic tale of cold murder, cunning double-crosses, and narrow escapes. . . We plow our way through sharp scenes of brilliant resourcefulness in the face of a towering conspiracy."—NPR

"[Fesperman] has a nose for powder-keg settings that offer social and political insights as well as vicarious thrills." —Richmond Times-Dispatch
 
"Entertaining. . . . Continues the string of fine work by Fesperman."—St. Louis Post-Dispatch
 
"A suspenseful, page-turning thriller . . . An exciting, labyrinthine yarn of conspirators and assassins, chases, escapes, near misses, plots within plots, and Dubai lore."—The Providence Journal
 
"Fesperman sharpens his storytelling acumen to cut through various global issues in his latest thriller . . . Dubai proves to be an ideal spot for excess, intrigue, and nefarious corporate shenanigans."—Baltimore Magazine
 
"Fascinating. . . . All of Fesperman's strengths are on display in his latest. . . . Anyone looking for more than just an a la carte thriller will find Layover in Dubai to be a soup to nuts reading experience indeed."—Daily Bulldog (Franklin County, Maine)
 
"Fesperman makes Dubai his book's finest character. Fabulous wealth and opulence grind like tectonic plates against traditional Muslim culture. . . . Layover in Dubai has plenty of action, but it's Fesperman's portrait of a truly bizarre place that will captivate readers."—Booklist
 
"A stellar suspense mystery that sizzles in the hot desert sun."—Las Vegas Review-Journal