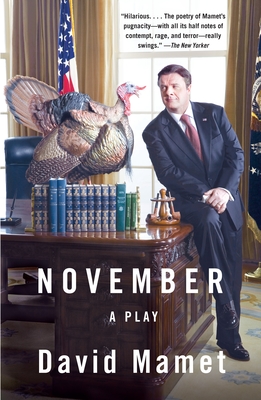 November (Paperback)
Vintage Books USA, 9780307388803, 120pp.
Publication Date: June 24, 2008
Description
David Mamet's new Oval Office satire depicts one day in the life of a beleaguered American commander-in-chief. It's November in a Presidential election year, and incumbent Charles Smith's chances for reelection are looking grim. Approval ratings are down, his money's running out, and nuclear war might be imminent. Though his staff has thrown in the towel and his wife has begun to prepare for her post-White House life, Chuck isn't ready to give up just yet. Amidst the biggest fight of his political career, the President has to find time to pardon a couple of turkeys -- saving them from the slaughter before Thanksgiving -- and this simple PR event inspires Smith to risk it all in attempt to win back public support. With Mamet's characteristic no-holds-barred style, November is a scathingly hilarious take on the state of America today and the lengths to which people will go to win.
About the Author
David Mamet is a dramatist, director, novelist, poet, and essayist. He has written the screenplays for more than twenty films, including Heist, Spartan, House of Games, The Spanish Prisoner, The Winslow Boy, Wag the Dog, and The Verdict. His more than twenty plays include Oleanna, The Cryptogram, Speed-the-Plow, American Buffalo, Sexual Perversity in Chicago, and the Pulitzer Prize-winning Glengarry Glen Ross. Born in chicago in 1947, Mamet has taught at the Yale School of Drama, New York University, and Goddard College, and he lectures at the Atlantic Theater Company, of which he is a founding member.
Praise For November…
"Hilarious. . . . The poetry of Mamet's pugnacity-with all its half notes of contempt, rage, and terror-really swings." —The New Yorker"A savage farce. . . . Mamet is in contention for the title of America's best living playwright." —The Guardian (London)"Maniacally funny. . . . It says something about November that its swift conclusion makes you yearn for a little more." —Associated Press"Breezy. . . . Punch-line-packed." —USA Today
Advertisement