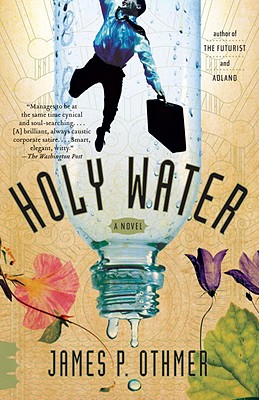 Holy Water (Paperback)
Anchor Books, 9780307388834, 292pp.
Publication Date: June 14, 2011
* Individual store prices may vary.
or
Not Currently Available for Direct Purchase
Description
Henry Tuhoe is the quintessential twenty-first-century man. He has a vague, well-compensated job working for a multinational conglomerate.  He has a beautiful wife and an idyllic home in the suburbs.  But things change when Henry's boss offers him a choice: go to the tiny, about-to-be-globalized Kingdom of Galado to oversee the launch of a new customer-service call center for a bottled water company, or lose the job with no severance, Henry takes the transfer.  Once in Galado, a land both spiritual and corrupt, Henry wrestles with first-world moral conundrums, the attention of a megalomaniacal monarch, and a woman intent on redeeming both his soul and her country.
About the Author
James P. Othmer is the author of "Adland: Searching for the Meaning of Life on a Branded Planet" and the novel, "The Futurist." He lives in upstate New York with his wife and children.
Praise For Holy Water…

"Manages to be at the same time cynical and soul-searching. . . . Smart, elegant, witty." —The Washington Post
 
"[A] beach read for BlackBerry addicts. . . . The book's gooey center inside its hard-candy shell is about finding meaning in work and life." —Fast Company
 
"Smart. . . . The best satire springs not from contempt but from idealism, and Holy Water's heart is finally an awakened one." —The Buffalo News
 
"Hilarious, disquieting, razor sharp, and Now with a capital N. . . . Othmer is . . . a keen-eyed witness to the troubling but strangely hopeful times in which we live and a stylist of the first order. —Jonathan Evison, author of West of Here

"Saul Bellow had Henderson the Rain King. Adolfo Bioy Casares had The Invention of Morel. James P. Othmer has Holy Water, and you should, too." —Ben Greenman, author of What He's Poised to Do and Please Step Back

"If you've been looking for Kurt Vonnegut's successor, look no further. James P. Othmer has picked up the master satirist's torch and taken off running with it. The moment you meet Henry Tuhoe, Vice President of Underarm Research, you know you've entered a world that is at once wildly absurd and frighteningly credible. If ever there was a novel for these troubled and bizarre times, this is it. What The Futurist predicted, Holy Water confirms: Mr. Othmer is on the brink of a major career. So it goes." —John McNally, author of After the Workshop and The Book of Ralph

Advertisement