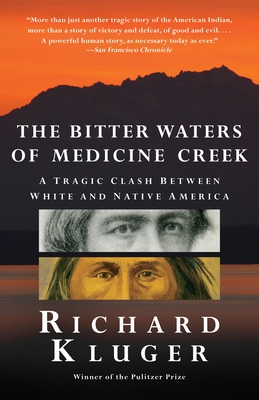 The Bitter Waters of Medicine Creek: A Tragic Clash Between White and Native America (Paperback)
A Tragic Clash Between White and Native America
Vintage Books, 9780307388964, 330pp.
Publication Date: March 6, 2012
* Individual store prices may vary.
or
Not Currently Available for Direct Purchase
Description
Pulitzer Prize-winner Richard Kluger brings to life a bloody clash between Native Americans and white settlers in the 1850s Pacific Northwest. After he was appointed the first governor of the state of Washington, Isaac Ingalls Stevens had one goal: to persuade the Indians of the Puget Sound region to leave their ancestral lands for inhospitable reservations. But Stevens's program--marked by threat and misrepresentation--outraged the Nisqually tribe and its chief, Leschi, sparking the native resistance movement. Tragically, Leschi's resistance unwittingly turned his tribe and himself into victims of the governor's relentless wrath. The Bitter Waters of Medicine Creek is a riveting chronicle of how violence and rebellion grew out of frontier oppression and injustice.
About the Author
Richard Kluger is the author of Ashes to Ashes: America's Hundred-Year Cigarette War, the Public Health, and the Unabashed Triumph of Philip Morris, which won the Pulitzer Prize. His Simple Justice: The History of Brown v. Board of Education and Black America's Struggle for Equality and The Paper: The Life and Death of the New York Herald Tribune both were finalists for the National Book Award. He is the author or coauthor of eight novels as well. He lives in Northern California.
Praise For The Bitter Waters of Medicine Creek: A Tragic Clash Between White and Native America…
"More than just another tragic story of the American Indian, more than a story of victory and defeat, of good and evil. . . . A powerful human story, as necessary today as ever."
—San Francisco Chronicle

"An eloquent account of a massacre's legacies as well as its history."
—The New York Times Book Review

"By focusing on one tribe's historic struggle, Kluger shines a light on our nation's deplorable treatment of its native people."
—The Seattle Times
 
"Meticulously researched, elegantly written and sophisticated, the book uses this all but forgotten episode in American history to give a human face to the injustices visited on Indians in treaty-making, on the battlefield and, surprisingly, in the courtroom."
—Minneapolis Star Tribune

"A close and fascinating look at one treaty. . . . With precision and vigor, Kluger examines the circumstances of the crime and trials." —The Oregonian
 
"Colorful. . . . Kluger's recitation of these events can be seen as an upbeat refusal to treat a historical tragedy as irredeemable. . . . He's canny enough to realize what's lost in a one-sided telling, and compassionate enough to make sense of the doings on all sides."
—The New York Times Book Review
 
"The Puget Sound used to belong to a handful of small tribes including the Nisqually, whose chief in the 1850s welcomed the arrival of whites who wanted to fish, farm, and cut timber. What happened next is the harrowing story told by Richard Kluger in The Bitter Waters of Medicine Creek, named after the one-sided treaty that stole the homeland of the Indians. Kluger is a careful researcher and skilled narrator who confronts the injustice of this land-theft head-on, but ends his tale on a note that cannot be called sad."
—Thomas Powers, author of The Killing of Crazy Horse
 
"Kluger's aim in providing the particulars of this tragedy [is] to help readers conceive the depth of the pain visited upon American Indians by white conquest. . . . This account's chief value is in its vivid illustration of an important but overlooked chapter in our region's history."
—Tacoma News Tribune
 
"It's probably politically incorrect to say so, but Richard Kluger's exquisite recreation of this little known case of historical injustice against the Native American Nisqually tribe and their chief, Leschi, is as gripping as the bloodiest tale of cowboys and Indians. What's more, along the way, this investigative history raises and profoundly illuminates the critical moral, political, and legal issues involved."
—Victor Navasky, author of Kennedy Justice
 
"Kluger's solidly sourced narrative and its tenor of indignation will captivate readers of frontier and American Indian history."
—Booklist
 
"A vivid portrait of the tragic patterns that defined white settlement and Indian resistance across the American continent. Trust betrayed, white mendacity and vainglory, brutality on both sides—all make for a deeply moving and unforgettable story."
—Kate Buford, author of Native American Son
 
"Well-researched and beautifully written. . . . Valuable for those interested in how the final stages of the concept of Manifest Destiny played out."
—Library Journal
 
"Richard Kluger relates how the West was won—that is, the ongoing white conquest of Native America—in a book of extraordinary scholarship, insight, and sensitivity. This is a tragic narrative, replete with unfulfilled promises, forced removals (ethnic cleansing), betrayals, judicial murders, and the sham of treaty making. Vividly told, it is an engrossing read, and the voice of the losers is omnipresent and eloquent."
—Leon Litwack, author of Trouble in Mind
 
Advertisement