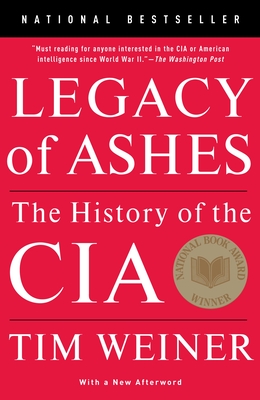 Legacy of Ashes (Paperback)
The History of the CIA
Anchor, 9780307389008, 848pp.
Publication Date: May 20, 2008
* Individual store prices may vary.
Description
With shocking revelations that made headlines in papers across the country, Pulitzer-Prize-winner Tim Weiner gets at the truth behind the CIA and uncovers here why nearly every CIA Director has left the agency in worse shape than when he found it; and how these profound failures jeopardize our national security.
About the Author
Tim Weiner, a reporter for The New York Times, has filed stories from inside the CIA and around the world for twenty years. He is a past winner of the Pulitzer Prize for covering national security. This is his third book.
Praise For Legacy of Ashes: The History of the CIA…
"Must reading for anyone interested in the CIA or American intelligence since World War II." —The Washington Post"Legacy of Ashes is the best book I've yet read on the CIA's covert actions." —Edward Jay Epstein, The Wall Street Journal"Legacy of Ashes should be must-reading for every presidential candidate—and every American who wants to understand why the nation repeatedly stumbles into one disaster abroad after another."—The Boston Globe "A timely and vital contribution . . . [that] glitters with relevance."—Los Angeles Times"This is by far the scariest book of the year."—The Christian Science Monitor