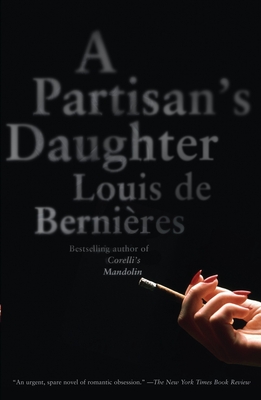 A Partisan's Daughter (Paperback)
Vintage International, 9780307389145, 193pp.
Publication Date: October 6, 2009
Description
England, late 1970s. Forty-something Chris is trapped in a loveless, sexless marriage. Roza, in her twenties, the daughter of one of Tito's partisans, has only recently moved to London from Yugoslavia. One evening, Chris mistakes her for a prostitute and propositions her. Instead of being offended, she gets into his car. Over the next months Roza tells Chris stories of her past. She's a fast-talking, wily Scheherazade, saving her own life as she retells it-and Chris is rapt. This deeply moving novel of their unlikely love is also a brilliantly subtle commentary on the seductive power of storytelling.
About the Author
Louis de Bernieres was awarded the Commonwealth Writers Prize for Best Book Eurasia Region in 1991 and 1992, and for Best Book in 1995. He was selected by "Granta" as one of the twenty Best of Young British Novelists in 1993, and lives in Norfolk, East Anglia.

www.louisdebernieres.co.uk
Praise For A Partisan's Daughter…
"An urgent, spare novel of romantic obsession. . . . De Bernières [is] adept at juxtaposing brutality with episodes of high comedy or romance."
—The New York Times Book Review

"A work whose artistic integrity should be applauded. . . . A wise and moving novel, perfectly accomplished. It shows that no life is ordinary. It shines fresh light on the nature of love."
—The Guardian (London)

"An aching tale of love and loss in which the protagonists embody the profound but fragile relationships strangers can build and the pain of intimacy corrupted."
—Time

"A triumph—a finely-executed little masterpiece."
—The Mirror (UK)

"A silk stocking of a novel: fragile, light—and yet possessed of surprising tensile strength. De Bernières's mellifluent, clear prose slips through the reader's mind with efficient ease, and even at its most dramatically jarring, you never need to come up for air. . . . Gripping."
—The Times (London)

"De Bernières has reached heights that few modern novelists ever attempt."
—The Washington Post

"A magnificent storyteller. . . . De Bernières masterfully explores the terrible price of love, politics and war."
—The Miami Herald

"Irresistible. . . . [A] remarkable literary voice: erudite, compelling, witty."
—USA Today

"De Bernières is so inventive—celebratory but never sentimental."
—Newsweek

"Louis de Bernières [may be] the next Leo Tolstoy."
—Seattle Post-Intelligencer

"De Bernières has a gift for irony, a sure hand for fast-moving plots . . . a talent for bringing the written word to life, and a delicious sense of the absurd."
—The Washington Times

"Who can resist an author with de Bernières's command?"
—The Atlantic

"De Bernières can move seamlessly from humor to poignancy and from easy charm to a searing anger."
—Financial Times

"Amazing powers of invention. He peoples his world with a dazzling variety of humanity at every level of society and with every shade of morals. It was writers like him who invented the novel, and it's writers like him who keep it alive and well."
—The Atlanta Journal-Constitution

"De Bernières is in the direct line that runs through Dickens and Evelyn Waugh."
—The Evening Standard (London)

"If you like your novels hearty and sustaining, Louis de Bernières is the writer for you. He writes with gusto and reveals a fine comic sensibility which is captivating."
—The Times (London)

"De Bernières's work encompasses cruelty, humor, love and friendship, hope and horror."
—Literary Review (London)
Advertisement