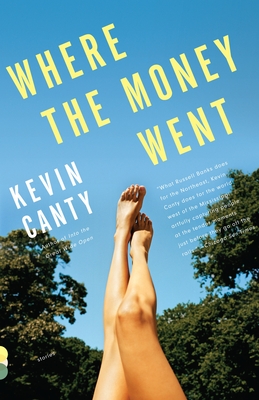 Where the Money Went (Vintage Contemporaries) (Paperback)
Vintage, 9780307389213, 208pp.
Publication Date: August 10, 2010
Other Editions of This Title:
Hardcover (7/14/2009)
* Individual store prices may vary.
Description
In these nine surprising stories about love and the desertion of love, a father contemplates his bank balance amid receipts for ski vacations; a real-estate agent tries to sell a house while his small son bites other children; and a widower, resigned to television for company, discovers the pleasures of life with another woman. In Kevin Canty's masterful collection, men convey the bitterness, tenderness, and humor of romantic relationships. Rarely is a man so revealing.  
About the Author
Kevin Canty is the award-winning author of the novels Into the Great Wide Open, Nine Below Zero, and Winslow in Love, as well as the short story collections Honeymoon and Other Stories, A Stranger in This World and Where the Money Went. His work has been published in The New Yorker, Esquire, GQ, Details, Story, the New York Times Magazine, Tin House and Glimmer Train.  He currently teaches fiction writing at the University of Montana.
Praise For Where the Money Went (Vintage Contemporaries)…
"What Russell Banks does for the Northeast, Kevin Canty does for the world west of the Mississippi . . . artfully capturing people at the tender moments just before they go off the rails." —Chicago Sun-Times

"In a culture that considers male issues to be as simple as a fist to the jaw, Kevin Canty's Where the Money Went shows us what it is to write like a man, and as one." —Providence Journal

"Canty's stories are set in a West that's defined more by tourists than cowboys, and his characters reach out for love, though they know its futility. They'll have another drink too, though they know where that leads." —The New York Times
 
"[Canty's] work has the sting of a Flannery O'Conner story . . . [and] the raw economy of Raymond Carver's work." —St. Louis Post-Dispatch

"Short stories are neither 'shrinky-dink' novels nor prose poems on steroids. They are their own gorgeous, obstinate, difficult-to-handle literary form. . . . Kevin Canty has mastered the form, and . . . Where the Money Went proves the point. . . . Deliciously entertaining." —The Oregonian  
 
"Canty possesses an instinctive ability to create old-fashioned, highly plotted stories, rich with incident and narrative tension." —Michiko Kakutani, The New York Times
 
"Kevin Canty is a poet among storytellers." —The Atlanta Journal-Constitution
 
"Even the stories throbbing with anger come as a relief. . . . Canty leaves readers heartbroken and empathetic." —The Plain Dealer
 
"Like the work of Richard Ford and Anne Beattie, Canty's stories are skillfully paced. Models of compression, they draw us into their dramas, complicate our allegiances, and then leave us breathless." —Minneapolis Star-Tribune
 
"Finely crafted. . . . [Where the Money Went's] semi-successful relationships may be unconventional, but they're intense nonetheless. Who knew misery could be so refreshing?" —Bookslut
 
"Canty is a writer's writer, never letting slip an extraneous word. But unlike many an artisan of his gifts, he is also a reader's writer." —The Baltimore Sun
 
"Canty . . . depicts the world through his characters' eyes, allowing for the simple acknowledgment that, in life, recognition or expectation of a change begets fresh, full attention to the world, its materials and surprises." —Los Angeles Times
 
"Wry [and] sad-funny. . . . There's longing, love, loss, betrayal, too much drinking, and a whole lot of post-divorce change-of-address forms to fill out there, but . . . Canty keeps you laughing along the way." —New West Book Review
 
"Canty's characters are hobbled by their inability to make or maintain real connections with other people. It's like reading nine different incarnations of Jake Barnes from The Sun Also Rises, all of them groping for a sturdy emotion that is just out of reach. . . . That Canty can resuscitate such sad sacks is a testament to his storytelling gifts. There just might be hope for this crew of lost souls." —Time Out New York
 
"Canty's stories are very much Americana, pointed and spiky like a basket of freshly-sharpened pencils. His characters are the people you might otherwise ignore, the people you don't remark upon at the soccer match, the married couple you might think you know, but do not, the valiant losers and ungraceful winners." —The Agony Column
 
"Amazing. . . . Concise yet lyrical, revolutionary without being preachy." —Metro  
 
"Canty is a writer who not only cares to the bone about his characters, but who honors them, endowing them with an emotional richness that resonates in startling, often frankly disturbing ways." —The Star-Ledger
 
"Certainly one of the most talented short story writers working today. . . . Canty has proved that the short story can be as vital a genre as its more glamorous and wealthy cousin, the novel." —Seattle Post-Intelligencer

or
Not Currently Available for Direct Purchase