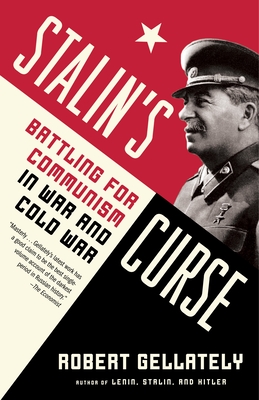 Stalin's Curse: Battling for Communism in War and Cold War (Paperback)
Battling for Communism in War and Cold War
Vintage Books, 9780307389459, 477pp.
Publication Date: December 3, 2013
Description
A chilling, riveting account based on newly released Russian documentation that reveals Joseph Stalin's true motives and the extent of his enduring commitment to expanding the Soviet empire during the years in which he seemingly collaborated with Franklin D. Roosevelt, Winston Churchill, and the capitalist West.
At the Big Three conferences of World War II, Joseph Stalin persuasively played the role of a great world leader, whose primary concerns lay in international strategy and power politics, and not communist ideology. Now, using recently uncovered documents, Robert Gellately conclusively shows that, in fact, the dictator was biding his time, determined to establish Communist regimes across Europe and beyond. His actions during those years and the poorly calculated responses to them from the West set in motion what would eventually become the Cold War. Exciting, deeply engaging, and shrewdly perceptive, Stalin's Curse is an unprecedented revelation of the sinister machinations of Stalin's Kremlin.
About the Author
Robert Gellately is the Earl Ray Beck Professor of History at Florida State University. In 2004-5 he was selected as the Bertelsmann Visiting Professor of Twentieth Century Jewish Politics and History, at Oxford University. He is the author of Lenin, Stalin, and Hitler: The Age of Social Catastrophe; The Gestapo and German Society: Enforcing Racial Policy, 1933-1945; and Backing Hitler: Consent and Coercion in Nazi Germany. His work has been translated into more than twenty languages.
Praise For Stalin's Curse: Battling for Communism in War and Cold War…
Praise for Robert Gellately's Stalin's Curse

"Masterly. . . . Gellately's latest work has a good claim to be the best single-volume account of the darkest period in Russian history."
—The Economist
 
"Impeccably researched and cogently argued . . . Gellately's intimate knowledge of the sources across Eastern European and of Russian archives compels us to accept his conclusions. . . . The blame for the barren cul-de-sac down which global history strayed for nearly half a century has never been better diagnosed: It was Stalin's curse."
—The Wall Street Journal
 
"Well-researched. . . . [Gellately's] grasp of the literature is tremendous, especially his expertise with the Soviet archives. I know of only two or three other books that can rival Stalin's Curse in terms of its penetrating use of Russian sources. . . . Gellately does an excellent job of showing how the Soviet leader took his country from a backwards nation to a global superpower."
—Jordan Michael Smith, Christian Science Monitor
 
"Incisive. . . . [Gellately] dashes once and for all the claims of blame-America academicians and faux historians that Washington was responsible for the Cold War."
—The Washington Times

"Outstanding. . . . A prominent historian of Nazi Germany and Soviet Russia, Gellately offers a panoramic view of Stalin's political, diplomatic and psychological manoeuvres that allowed the USSR to achieve superpower status. The author has an encyclopedic knowledge of his subject and provides a compelling narrative of deception, brutality, foolishness and betrayed idealism."
—Times Higher Education

"Masterful . . . historian Robert Gellately takes us back to square one. Whodunit? Stalin."
—Maclean's

"A compelling argument. . . . Gellately traces Stalin's career in a new work that takes dead-aim at debunking historiographical views that Stalin's political post-World War II posturing originated from any obsession with national security."
—The Advocate

"A refreshingly frank analysis. Not for [Gellately] is the revisionist notion that the US was as much to blame for the cold war as the Soviet Union . . . a powerful work of synthesis."
—New Statesman

"The complicated story . . . is graphically and succinctly told. The narrative is compelling. . . . Although Stalin's Curse emphasizes the unprecedented ruthlessness of Stalin, it has implications for today."
—Literary Review (UK)

"Florida State University's Gellately (Lenin, Stalin and Hitler) adds to his distinguished body of work on 20th-century totalitarianism with this analysis of Stalin's conduct in international relations between 1939 and 1953 . . . Interweaving scholarship and the testimonies of those who suffered under Stalin's rule, Gellately's history is political and personal."
—Publishers Weekly

"Gellately here indicts Stalin as the primary instigator of the Cold War, marshaling evidence from Communist archives that undermines the revisionist case for Western responsibility for starting the confrontation . . . Gellately's fine contribution to Cold War studies will engage readers with its inside-the-Kremlin detail."
—Booklist

"Masterful. . . . This book should become a go-to read on how the Cold War developed."
—Library Journal

"Gellately has written a fascinating study of Stalin's motivation. Using rich sources from archives to memoirs, [he] convincingly shows that Stalin was a committed follower of Marxism-Leninism and worked constantly to expand the international revolution under Russia's leadership. . . . Highly recommended."
—Choice Magazine
Advertisement