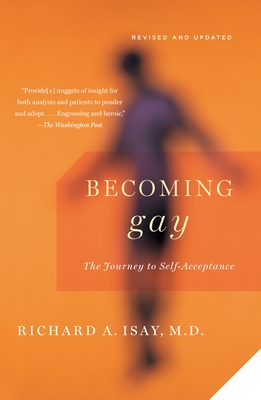 Becoming Gay: The Journey to Self-Acceptance (Paperback)
The Journey to Self-Acceptance
Vintage Books USA, 9780307389770, 194pp.
Publication Date: May 5, 2009
Description
Now revised and updated for the 21st-century, Becoming Gay is the classic guide on how to accept one's homosexuality. By exploring the psychological development of gay men through personal case histories--including his own--Dr. Isay shows how disguising one's sexual identity can induce anxiety, depression, and low self-esteem. Individual chapters tackle acceptance in any stage or circumstance of life, whether it be adolescence, married-with-children, retirement age, or living with HIV and AIDS. Dr. Isay's insights provide invaluable support to gay men and will enliven families, friends, and therapists who want to better understand the process of coming out and help their loved ones or patients to embrace a positive gay identity.
About the Author
Dr. Richard Isay is a professor of psychiatry at Weill Cornell Medical College and the Payne Whitney Psychiatric Clinic and a faculty member of the Columbia University Center for Psychoanalytic Training and Research. He was instrumental in getting the American Psychoanalytic Association to adopt a non-discrimination policy for the training of candidates.
Praise For Becoming Gay: The Journey to Self-Acceptance…
"Provide[s] nuggets of insight for both analysts and patients to ponder and adopt. . . . Engrossing and heroic." —The Washington Post "Becoming Gay is a good read—well-written [and] filled with useful insight particularly for those struggling to accept their homosexuality."—The Philadelphia Inquirer"Richard Isay's own story is fascinating. . . . Like Jonah, Dr. Isay has been inside the belly of the whale." —The New York Observer "Richard Isay has made a career out of the struggle to make psychoanalysis safe, available, and effective as treatment for gay men. . . . His belief in his patients' inherent worth is palpable and a powerful curative agent." —The New England Journal of Medicine
Advertisement