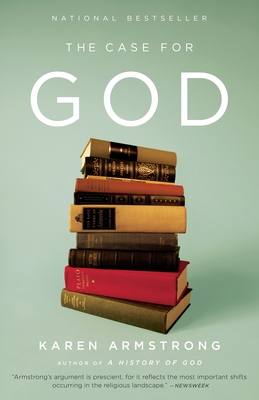 The Case for God (Paperback)
Anchor, 9780307389800, 432pp.
Publication Date: September 7, 2010
Other Editions of This Title:
Digital Audiobook (9/21/2009)
Hardcover (9/22/2009)
Compact Disc (9/22/2009)
Hardcover, Large Print, Large Print (11/1/2009)
* Individual store prices may vary.
Description
A nuanced exploration of the part that religion plays in human life, drawing on the insights of the past in order to build a faith that speaks to the needs of our dangerously polarized age.
 
Moving from the Paleolithic age to the present, Karen Armstrong details the great lengths to which humankind has gone in order to experience a sacred reality that it called by many names, such as God, Brahman, Nirvana, Allah, or Dao. Focusing especially on Christianity but including Judaism, Islam, Buddhism, Hinduism, and Chinese spiritualities, Armstrong examines the diminished impulse toward religion in our own time, when a significant number of people either want nothing to do with God or question the efficacy of faith. Why has God become unbelievable? Why is it that atheists and theists alike now think and speak about God in a way that veers so profoundly from the thinking of our ancestors?

Answering these questions with the same depth of knowledge and profound insight that have marked all her acclaimed books, Armstrong makes clear how the changing face of the world has necessarily changed the importance of religion at both the societal and the individual level.  Yet she cautions us that religion was never supposed to provide answers that lie within the competence of human reason; that, she says, is the role of logos. The task of religion is "to help us live creatively, peacefully, and even joyously with realities for which there are no easy explanations." She emphasizes, too, that religion will not work automatically. It is, she says, a practical discipline: its insights are derived not from abstract speculation but from "dedicated intellectual endeavor" and a "compassionate lifestyle that enables us to break out of the prism of selfhood."
About the Author
Karen Armstrong is the author of numerous books on religion, including Fields of Blood, A History of God, The Battle for God, Holy War, Islam, Buddha, and Fields of Bloos, as well as a memoir, The Spiral Staircase. Her work has been translated into forty-five languages. In 2008 she was awarded the TED Prize and began working with TED on the Charter for Compassion, created online by the general public, crafted by leading thinkers in Judaism, Christianity, Islam, Hinduism, Buddhism, and Confucianism. It was launched globally in the fall of 2009. Also in 2008, she was awarded the Franklin D. Roosevelt Four Freedoms Medal. In 2013, she received the British Academy's inaugural Nayef Al-Rodhan Prize for Transcultural Understanding.  
Praise For The Case for God…
"The time is ripe for a book like The Case for God, which wraps a rebuke to the more militant sort of atheism in an engaging survey of Western religious thought."  —Ross Douthat, The New York Times Book Review
 
"Armstrong's argument is prescient, for it reflects the most important shifts occurring in the religious landscape." —Lisa Miller, Newsweek
 
"The Case for God is Armstrong's most concise and practical-minded book yet: a historical survey of hwo rather than what we believe, where we lost the "knack" of religion and what we need to do to get it back." —Michael Brunton, Ode
 
"In over a dozen books [Armstrong] has delivered something people badly want: a way to acknowledge that faith can be taken seriously as a response to deep human yearnings without needing to subscribe to the formality of organized belief." —The Economist
 
"Armstrong is ambitious. The Case for God is an entire semester at college packed into a single book—a voluminous, dizzying intellectual history. . . . Reading The Case for God, I felt smarter. . . . A stimulating, hopeful work.  After I finished it, I felt inspired, I stopped, and I looked up at the stars again.  And I wondered what could be." —Susan Jane Gilman, NPR's "All Things Considered"
 
"Challenging, intelligent, and illuminating—especially for anyone reflecting on current discussions of atheism, often characterized as conflict between religion and science." —Elaine Pagels, co-author of Reading Judas: The Gospel of Judas and the Shaping of Christianity