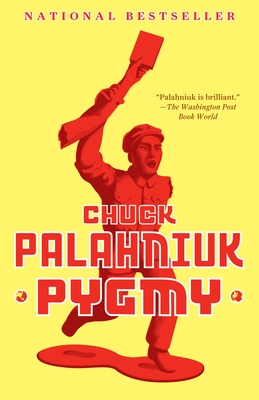 Pygmy (Paperback)
Anchor, 9780307389817, 256pp.
Publication Date: April 20, 2010
Other Editions of This Title:
Digital Audiobook (5/4/2009)
Hardcover (5/5/2009)
Compact Disc (5/5/2009)
Compact Disc (5/5/2009)
Audio Cassette (5/1/2009)
Hardcover (6/1/2009)
Pre-Recorded Audio Player (6/1/2009)
MP3 CD (5/5/2009)
* Individual store prices may vary.
Description
A gang of adolescent terrorists, a spelling bee, and a terrible plan masquerading as a science project: This is Operation Havoc.
 
Pygmy is one of a handful of young adults from a totalitarian state sent to the US disguised as exchange students. Living with American families to blend in, they are planning an unspecified act of massive terrorism that will bring this big dumb country and its fat dumb inhabitants to their knees. Palahniuk depicts Midwestern life through the eyes of this indoctrinated little killer in a cunning double-edged satire of American xenophobia.
About the Author
Chuck Palahniuk's nine previous novels are the bestselling Fight Club, which was made into a film by David Fincher; Survivor; Invisible Monsters; Choke, which was made into a film by director Clark Gregg; Lullaby; Diary; Haunted; Rant; and Snuff. He is also the author of Fugitives and Refugees, a nonfiction profile of Portland, Oregon, published as part of the Crown Journeys series, and the nonfiction collection Stranger Than Fiction. He lives in the Pacific Northwest.
Praise For Pygmy…
"A cunning mix of advertising copy, leftist sloganeering and teen slang…. Pygmy is a dish for those who like their satire well done. And without apology." —San Francisco Chronicle

"Palahniuk's twisted imagination is still in full bloom." —The Seattle Times
 
"[A] hilarious cover-to-cover read." —The Baltimore City Paper
 
"Inventive, hilarious, moving and deeply disturbing." —Playboy

"Palahniuk is brilliant." —The Washington Post Book World

"Palahniuk's novels have always been driven by black humor. . . . His minimalist, verb-heavy style propels the narratives through the many bizarre, occasionally shocking events. . . . A full portrait of an unforgettable character. Pygmy is yet another unique direction for an author who continues to challenge and intrigue readers." —The Boston Globe
 
"A rip-roaringly exciting piece of writing, a truly graphic novel. . . . It has moments of poetry within." —The Telegraph (London)
 
"Chuck Palahniuk is William S. Burroughs and David Foster Wallace rolled into one." —San Diego Union-Tribune
 
"Violent, outrageous, and darkly hilarious." —National Post
 
"Palahniuk is brilliant at juxtaposing Pygmy's insane background with the madness of contemporary Western society." —The Washington Post Book World
 
"Give Pygmy to your kid. He'll think you're rad." —Esquire
 
"A poignant commentary on culture clash with a sinister and violent twist. It's what one might expect if movie-violence king Quentin Tarantino had written Borat." —The London Free Press
 
"Palahniuk . . . knows all about escalating action to a thrilling finale. More impressively, he starts to make us feel for Pygmy, and introduces a more human side to this previously impenetrable character. . . . Pretty funny." —The Independent (London)
 
"A jarring and evocative narrative culminating in something both cruel and humane. . . . Culture clash with a Palahniuk twist." —Bookreporter
 
"Think Faulkner writing as a demented Chinese Pinko-Commie youth with a deadly killing stroke and a near constant erection. . . . The apocalypse of the American Dream has never been so entertaining." —Death + Taxes magazine