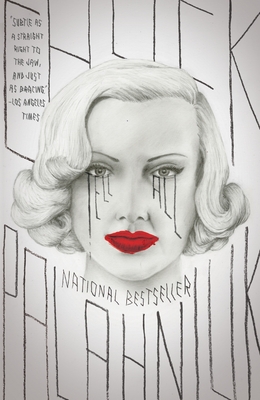 Tell-All (Paperback)
Anchor Books, 9780307389824, 179pp.
Publication Date: May 31, 2011
Description
For decades Hazie Coogan has tended to the outsized needs of Katherine "Miss Kathie" Kenton, veteran of multiple marriages, career comebacks, and cosmetic surgeries. But danger arrives with gentleman caller Webster Carlton Westward III, who worms his way into Miss Kathie's heart--and boudoir. Soon, Hazie discovers that this bounder has already written a celebrity memoir foretelling Miss Kathie's death in an upcoming musical extravaganza. As the body count mounts, Hazie must execute a plan to save Katherine Kenton for her fans and for posterity.
About the Author
Chuck Palahniuk's ten previous novels are the bestselling Fight Club, which was made into a film by David Fincher; Survivor; Invisible Monsters; Choke, which was made into a film by director Clark Gregg; Lullaby; Diary; Haunted; Rant; Snuff; and Pygmy. He is also the author of Fugitives and Refugees, a nonfiction profile of Portland, Oregon, published as part of the Crown Journeys series, and the nonfiction collection Stranger Than Fiction. He lives in the Pacific Northwest.
Praise For Tell-All…
"Subtle as a straight right to the jaw, and just as bracing." —Los Angeles Times

"Dreamlike, insane, Burroughs-esque." —San Francisco Chronicle

"Over the top in Palahniuk's patented style, made even richer by some athletic wordplay." —The Oregonian 

 "Chuck Palahniuk is one of modern American fiction's most interesting stylists, and he's at it again. . . . A masterful feat." —Associated Press  
 
"With his love of contemporary fairy tales that are gritty and dirty rather than pretty, Palahniuk is the likeliest inheritor of Vonnegut's place in American writing." —San Francisco Chronicle
 
"Among sick puppies, Palahniuk is top dog." —People
 
"Reading a Palahniuk novel is like getting zipped inside a boxer's heavy bag while the author goes to work on you, pounding you until there is nothing left but a big bag of bones and blood and pain." —The Miami Herald
 
"Palahniuk doesn't write for tourists. He writes for hard-core devotees drawn to the wild, angry imagination on display and the taboo-busting humor." —The New York Times
 
"So funny. . . . There are a lot of laughs to be had, notably from some outlandish Broadway productions of the playwright Lillian Hellman, and the excruciating extracts we read of Westward's juicy and self-aggrandizing memoir, gloriously entitled Love Slave." —The Independent (London)
 
"[Palahniuk] knows how to spin whacked-out stories particular to our times." —The Seattle Times
 
"Chuck Palahniuk is William S. Burroughs and David Foster Wallace rolled into one." —San Diego Union-Tribune
 
"Few contemporary writers mix the outrageous and the hilarious with greater zest. . . . Chuck Palahniuk's splenetic, anarchic glee makes him a worthy heir to Ken Kesey." —Newsday
 
"An author who continues to challenge and intrigue readers." —The Boston Globe
 
"[Palahniuk] has a singular knack for coming up with inventive new ways to shock and degrade." —New York Post
 
"Place this bet in your time capsule: Chuck Palahniuk's novels will be required reading in American literature classes 100 years from now." —The Fort Myers News-Press
 
"One of the most intriguing writers of our time." —The Tucson Citizen


Advertisement